When it comes to making high quality hay and haylage, timing is everything for Phil Lander and son James of Staffordshire Hay. And to make the most of timings and shorter weather windows, the firm has invested in a four-rotor Kverneland 95130C rake for the coming season.
Phil (right) and James Lander of Staffordshire Hay, with their four-rotor, 95130C Pro rake.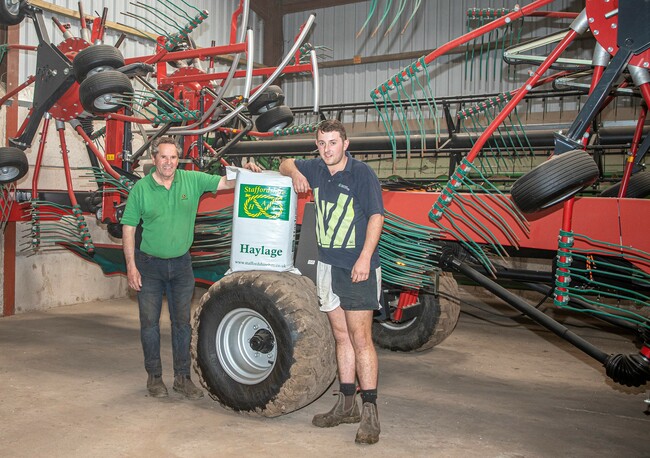 "We had been using a twin rotor rake, but wanted more productivity without impacting on forage quality," explains Phil Lander, who runs the family business from Smallbrook Farm, Wombourne, south Staffordshire.
"We spread all our grass behind the mower, and when conditions are right, we can simply row up and bale," he adds. "In hot weather, where drying times can be short, the twin rotor rake couldn't cover enough ground, and we risked making forage that could be too dry."
The answer was a larger rake. Having had a demonstration from Battlefield Machinery last season, the deal was done.
"We were soon convinced of the wider rake's extra capability," says Phil. "With electric rotor height we can adjust the working height on-the-move, and if swaths are too heavy, we can lift a pair of rotors. It's such a versatile bit of kit, that we now have far more options in-field."
Staffordshire Hay grows high quality forage across 350 acres of grass leys. Taking multiple cuts, it produces around 5-6,000 bales/year comprising hay and haylage, in round and large square formats. The arable side of the business also provides access to a supply of straw.
While the firm sells baled products, it also offers hay, haylage and straw in smaller quantities, to meet customer requirements. An on-farm bale-breaker and haylage press allows forage to be re-packaged into 4kg and 20kg bags, to suit local equestrian and pet markets, and also for distribution to West Midlands retailer TFM Farm & Country Superstore.
"Rowing up has now become a much steadier job because of the rake's high capacity," says Phil. "Round balers need a good swath, and this rake lets us adjust the swath width precisely to suit the intake of our baler-wrapper. It's a lovely bit of kit."