Kverneland iXter B
Mounted sprayer range with tank volumes from 1000 up to 1800 litres. Different boom types available from 15 - 30 metres. 
Highlights
EasyHitch - Ingenious locking system
iXspray for a user friendly operation
iXclean Pro fully automatic valve management system
iXflow-E high pressure recirculation system
Boom Guide: automatic boom height control system
Kverneland iXter B - The Power of Technology
The Kverneland iXter B mounted sprayer is the fruit of years of research and development in close collaboration with farmers: this is today the most advanced mounted sprayer range with focus on user friendliness and environmental protection. With iXflow-E individual nozzle control and a completely new iXspray hardware and software platform Kverneland can offer a high tech mounted sprayer with a high level of user friendliness for the professional farmer segment.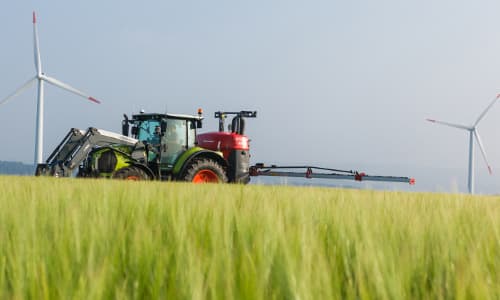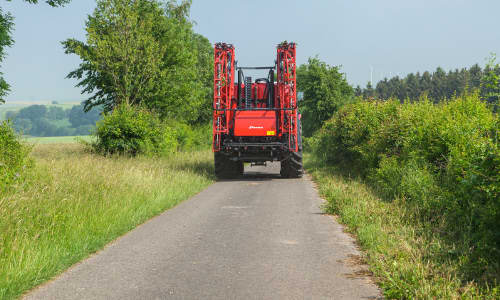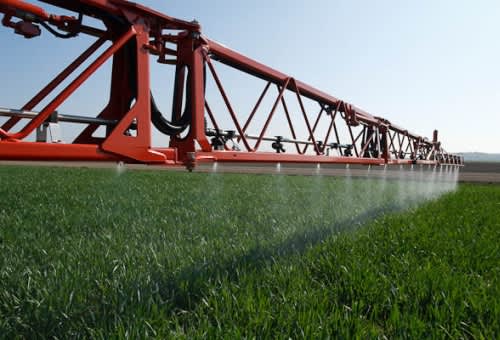 HC 18-20-21-24-27-28-30m Vertical Folding Steel Boom
The HC boom is the multi-talented boom in the steel boom range. The triangular steel construction and the unique anti yaw system allow high speed even in very difficult conditions. The HC boom is giving you the functionalities for one side folding, symmetrical reduction and asymmetrical reduction depending of the choice for the electric hydraulic command.
HOSA 15m "Z" Folding Aluminium Boom
The HOSA spray boom is a unique boom of the aluminium boom family having an advanced Z-folding principle: the lateral movement enables you to quickly reduce boom width and pass obstacles in the field. The aluminium profile is designed for maximum resistance. No welding provides remarkable strength, the anodised hardened surface protects against scratches and corrosion.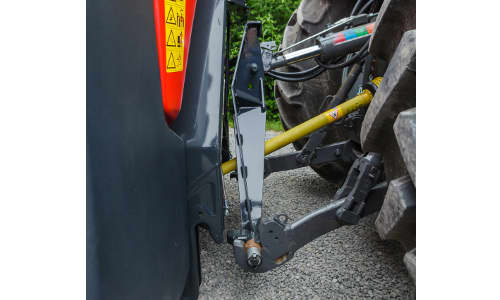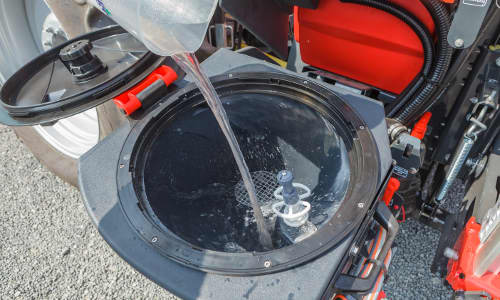 Full Integration Concept
Nobody would expect all these functions so easily to hand. Better protection and integration is simply not possible. iXter B is setting a new standard!
Easy Set Control Panel
The Easy Set control panel makes life easy by its intuitive operation. The controls are separated to a suction and pressure side. The valves are well protected behind the door: this keeps your operational area free of dirt and pesticides.
Easy Hitch Makes Life Easy
There is enough space to connect the PTO shaft and the hydraulic and electric cables. An ingenious locking system secures the machine and shows the operator it has connected correctly.
Easy Operation
The graduated chemical inductor with a capacity of 30 litres is mounted on rails and fully integrated in the frame. In storage position the inductor is sealed against the top plate and no cover is needed. The rotating canister cleaning nozzle releases the water when pushed downwards. The circular rinsing system is no add on: it is part of the design! The standard return flow agitation with its unique agitation tube keeps the tank mixture agitated. The turbo agitation system (optional) allows powerful mixing during preparation of the mixture. This is especially helpful when powders are used or after sedimentation during a longer period of interruption.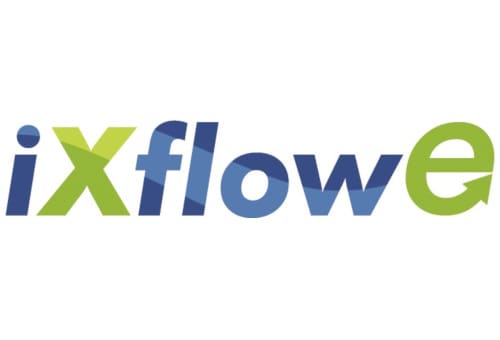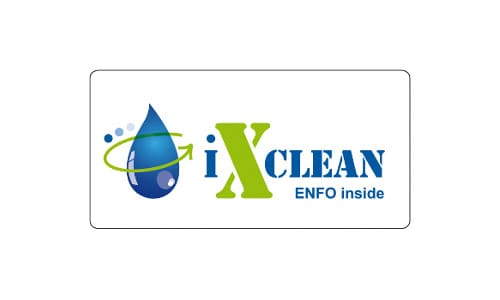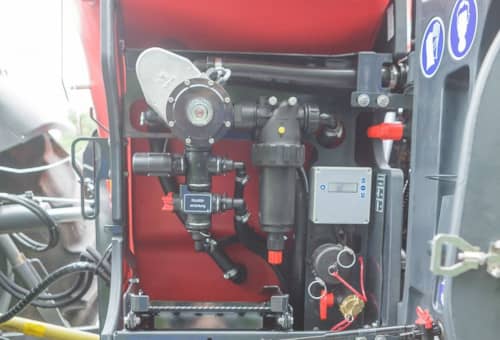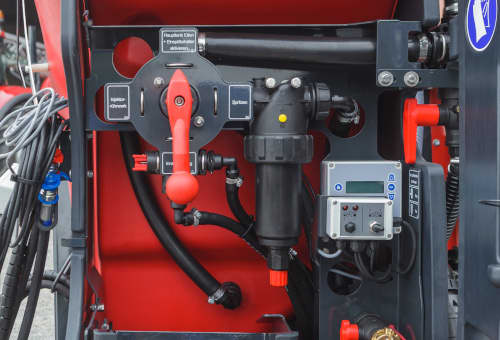 Electrical Level Indicator
The electrical level indicator on the front tank provides actual tank volume to a spraying computer as well as via the external display on the Easy Set control panel of the iXter B mounted sprayer.
iXclean
ENFO priming and rinsing is standard on all Kverneland spray computers. Before spraying starts the spray lines are filled with chemicals exactly up to the nozzle by automatic shut off. After finishing or interruption, crop protection agents are automatically flushed out of the spray lines with a minimum of clean water consumption. This ENFO technology optimizes filling and cleaning of the spray lines. Accurate application, no waste of products and saving water are the benefit for the environment.
iXclean Comfort
iXclean Comfort is a semi-automatic valve control system. The combination of an electrical level indicator and suction valve provides operator comfort and accuracy; automatic filling stops when the programmed level is reached, and remote control of all ENFO rinising and priming functions are carried out from the cab! Simple prime the spray lines before you start and rinse them afterwards.
iXclean Pro
iXclean Pro is an advanced solution with fully automatic, electric valve management. It means all functions can be controlled from the cab. Switching between filling, agitation, spraying, diluting, priming, rinsing and tank cleaning, is extremely easy: just push the button! In addition iXclean Pro offers also a fully automatic multi-step rinsing and cleaning program with triple dilution for the entire sprayer. Pushing one button a comprehensive cleaning process including all lines will start. It is so thorough, that residue levels after automated cleaning are below 1%.
iXflow-E
iXflow-E is the high pressure recirculation system with electric nozzle control. There is a free circulation of chemicals with a return of spray liquid back to the tank as spraying stops. This means there is no sedimentation in the spray lines and no dead ends for spraying or cleaning, even when the boom is in vertical position. During spraying each section gets under pressure from both ends of the spray lines, so the operator can immediately start spraying without any pressure drop. It is easy for the operator to program the number and size of sections which fits the best to their requirements and field situations.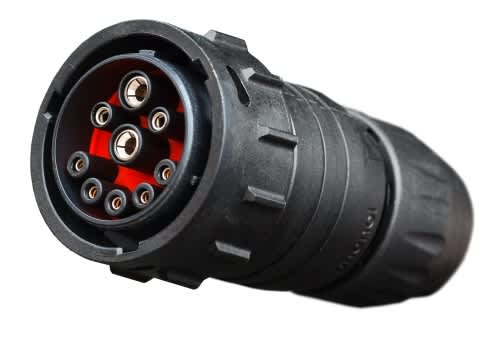 ISOBUS intelligence (FMA regulater only)
You are ensured of the ISOBUS compatibiliy from tractor to the sprayer and sprayer to tractor, meaning that all data collection from your machine(s) is centralised and can be easily transferred to your Terminal (e.g. IsoMatch Tellus) in your tractor cabin. Easy plug and play!
Boom Guide Comfort
Two ultrasonics sensors on the boom can control the spray height via the central slope correction and boom lift functions. This cost effective system is suited to gentle slopes and uneven crop conditions.
Boom Guide Pro
This advanced system used three ultrasonic sensors to control left- and right-hand boom sections independently for the ultimate guidance in the most challenging field conditions. It can deliver positive and negative lateral movement on each side of the boom to follow the contours in every condition!
Starguide IV: Automatic GPS section control and guidance by D-GPS
Those who have used it will never go back. Starguide IV will change your spraying days forever: spray around the headland and the Starguide IV will control the spray sections automatically as you can cover the remainder of the field.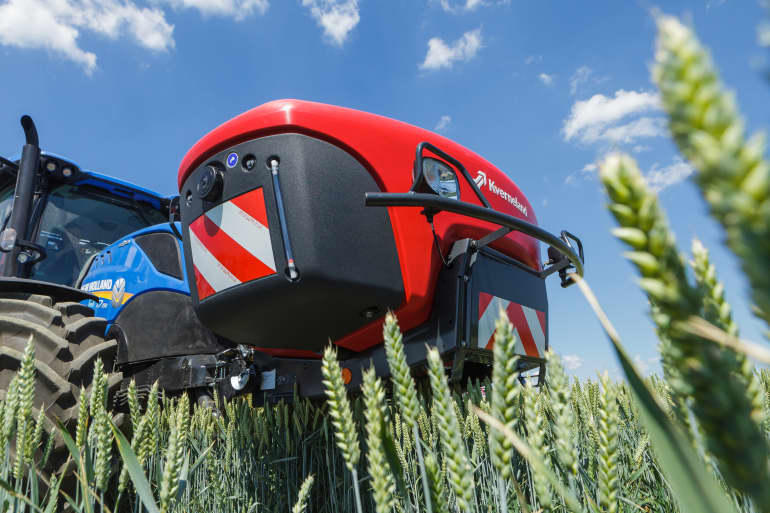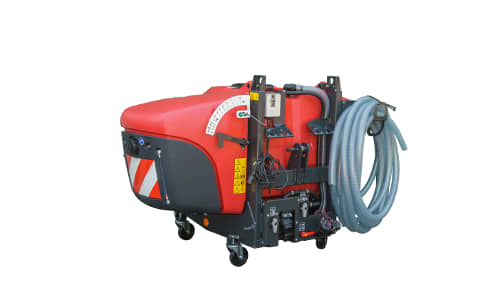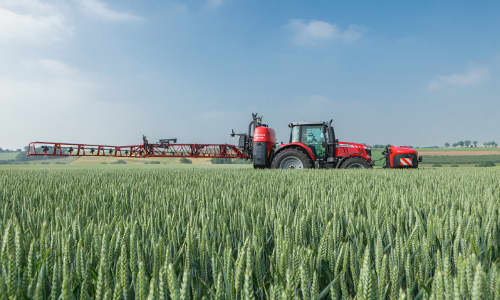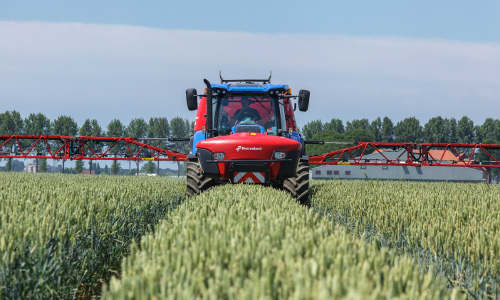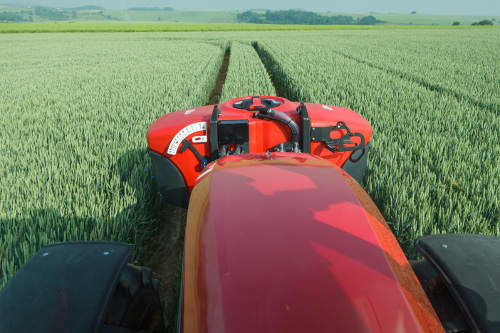 Dual Tank Strategy
The innovative iXtra concept offers much more than just extra tank volume. In combination with the iXter B mounted sprayer, the iXtra front tank provides a total volume of around 3000 litres, making the iXter-iXtra combination a serious alternative to a self propelled sprayer. With tractors able to carry much higher loads on their rear linkages, the need for ballast weight on the front of the tractor is essential. With a nominal volume of more than 1100 litres, the iXtra is that front end weight, adding stability to your tractor, but only when needed!
One-tank approach: filled with spray liquid it boosts overall tank capacity by 60%.
Two-tank approach: filled with two different tank mixes, the front and rear tanks can be used as two independent spray tanks.
Reservoir approach: filled with clean water the iXtra front tank can be used as a reservoir for later use, for example in another field or crop.
Easy to Fit, Simple to Unhitch
The iXtra front tank used the functions of the iXter B sprayer when filling and spraying. This avoids the need for a separate induction hopper or spray pump for the front tank. Without a front PTO shaft or hydraulic hoses, hitching and unhitching the iXtra is extremely simple: it uses only two hoses with KAMlock connections and an electric cable - it really is that simple!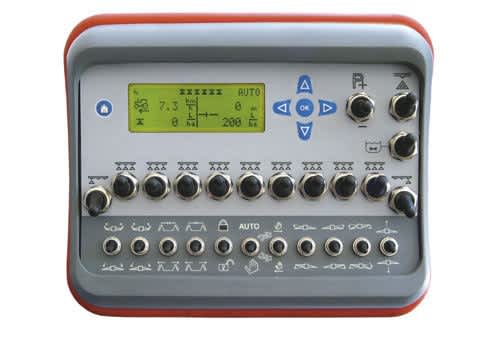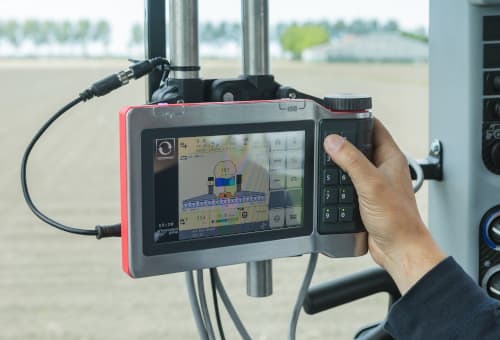 FlowMate Control FMC: Basic Spray Computer
Extremely simple to operate
Very compact by integration of all spraying and hydraulic functions
Integrated nozzle advice
Field memory for 25 different fields
iXspray
The iXter B mounted sprayer is 100% ISOBUS compatible as standard, which means easy plug and play with the IsoMatch Tellus GO+ or PRO or any other AEF certified terminal. The innovative iXspray hardware and software with intuitive touch interface guarantees an user friendly operation of the sprayer. iXspray is full of nice features to make the operators life easy, save time and avoid mistakes in a busy working season, for example pre-sets for spray jobs and boom configuration can be configured easily.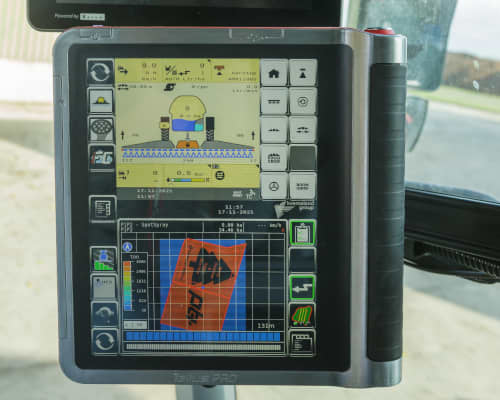 Only spray when it is needed
Increase the environmental protection by only spray when it is needed with the new SpotSpray application within the iXspray software on the IsoMatch Tellus terminal in combination with the Kverneland sprayer !
Optimal Crop Protection
The SpotSpray application is based on a predefined prescription map with zero application rates. These prescription maps can be made in a similar way as the Variable Rate Application (VRA) prescription maps, in combination the SpotSpray application the sprayer shuts on and off. This is done based on the predefined sections in the control terminal and can even be done with normal section valves on the sprayer. Only designated spots are sprayed, which is particularly helpful when targeting weed spots, thistles, wet areas, non-germinated areas and areas with soil problems. 
Another benefit is that based on the area of the spots in the VRA map, it is easy to see exactly how much spray liquid is required in the sprayer. Capacity is also increased as more hectares or fields can be covered with one tank of spray liquid.
With a relatively small investment in the SpotSpray license on the IsoMatch Tellus terminal, the return on investment is high, due to saving time and money. With this, spot spraying becomes accessible for all famers and contractors.
With SpotSpray costs can be saved by reducing the spray liquid to be used and preserve healthy crop from unnecessary treatment. This also means less crop damage.
Technical specifications
Download brochure
iXter

B10

B13

B16

B18

Nominal tank capacity

1000 litres

1300 litres

1600 litres

1800 litres

Maximum tank capacity

1100 litres

1450 litres

1800 litres

2000 litres

Chemical inductor

30 litres

Clean water tank

180 litres

Hand wash tank

18 litres

Pumps

150/200/260 (l/min)

Regulation systems

FMC / IsoMatch Grip in combination with IsoMatch Tellus PRO, IsoMatch Tellus GO+ or any other ISOBUS terminal

iXclean

iXclean Comfort or iXclean Pro
Find nearest dealer