"We were considering a second fertiliser spreader to help meet our expanding workload," says Matt Houldcroft, farms manager at R&R Mills, Woodside Farm, Empingham, Rutland. "But the capacity and accuracy of Kverneland's TLX GEOSPREAD has easily ruled that out."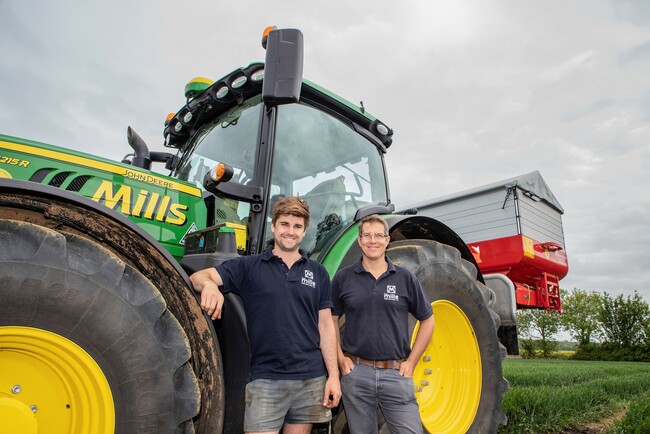 Operator Iwan Jones (left) with farms manager Matt Houldcroft.
Supplied by local dealer Sharmans, the high capacity spreader has applied over 1,440 tonnes of fertiliser in 419 hours, across 7,520ha (18,580 acres) in just under 12 months.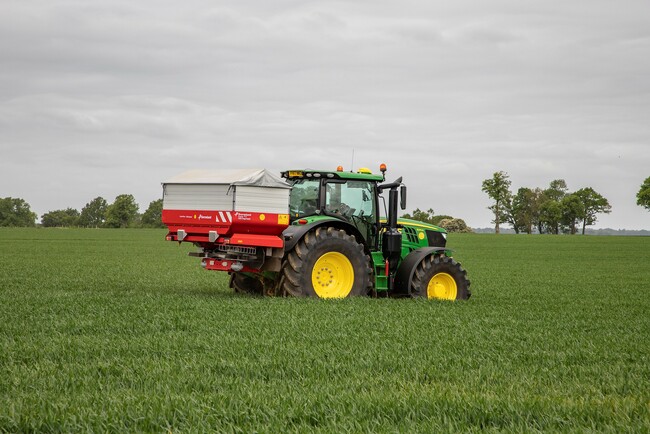 In less than 12 months, R&R Mills' TLX GEOSPREAD has applied over 1,440 tonnes of fertiliser in 419 hours, across 7,520ha.
"It's an impressive bit of kit," says Matt. "Our crops look great, and our overlaps have been virtually eliminated."
Applying fertilisers to 2,000ha of combinable crops for multiple land owners, R&R Mills demands accuracy and output in equal measure. Applications are made on 36m tramlines and include split dosing plus variable rates – the latter with MOP from 60-400kg/ha. With the new spreader, forward speeds are consistently up to 20kph.
"We've been very impressed with its accuracy and output," he says. "And a 300ha day is easily achievable, by bringing fertiliser to the spreader."
Mr Houldcroft reckons savings on overlaps add up to around 8%, with just a few kilos left in the hopper after each field.
"I've never known a weighing system to be this good," he adds. "Accuracy gives you confidence, but you have to trust the technology. We used to take several extra bags of fertiliser when spreading on outlying blocks of land – now we only take one extra bag. And this has improved logistics enormously for us."
Operator Iwan Jones agrees.
"I'd say it's more accurate than our sprayer," adds Iwan. "Section control plus auto start/stop is just incredible. And it's so easy to use. You pick it up, plug it in and away you go."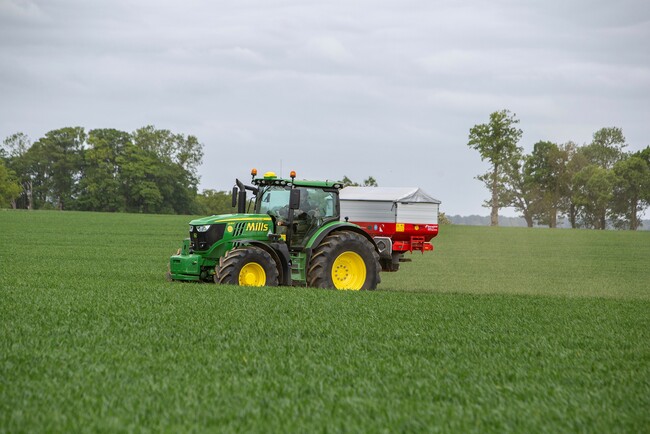 Run through the tractor's Greenstar terminal, he says the high-output TLX GEO has given the firm the capacity to cover large acreages while maintaining accuracy.
"Application timing is everything, and if it wasn't for the Kverneland spreader, we'd probably have to run two spreaders to keep up," he says.