Constantly changing weather patterns have led Finavon-based William Orr & Sons to return to a one-pass power harrow drill combination, to guarantee crop establishment. It follows an eight-year period with a 4m trailed cultivator drill, which was said to require too much seedbed preparation as weather windows shortened.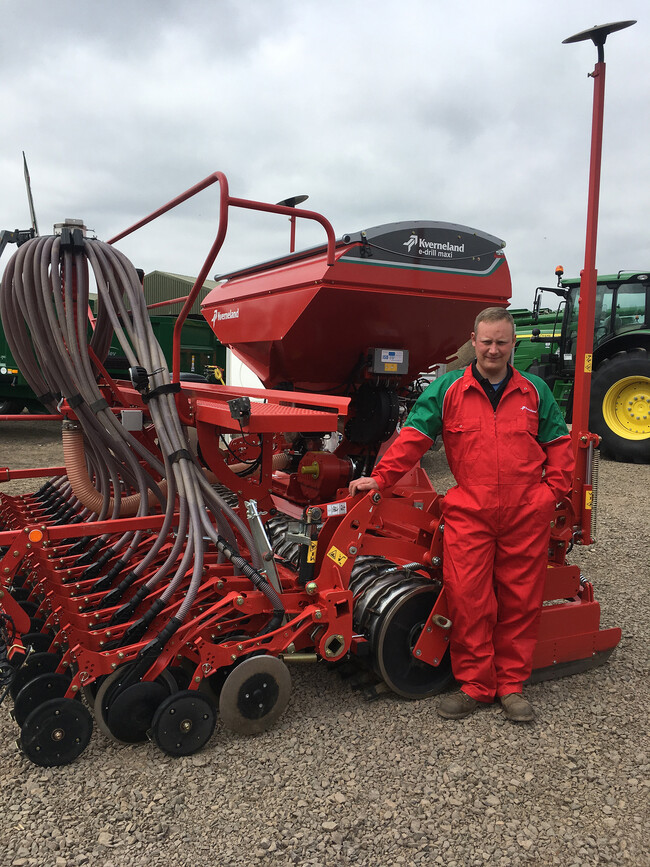 "We struggled last autumn to get crops in with our previous drill," explains William Orr, of West Mains. "We bought an old combination drill just to keep going, and over the winter, we reviewed our options and looked for a suitable combination to take our business forward."
The family-run farming business opted for a 4m e-drill Maxi, sitting above a 4m NG-S power harrow to create a close-coupled combination on the back of the farm's John Deere 7830. Supplied by Netherton Tractors at Tollmuir, Forfar, the outfit arrived on-farm in time to drill 100ha of spring barley.
With 300ha of combinable crops, the farm ploughs ahead of the drill. He believes the power harrow's cracker packer provides the optimum level of consolidation directly behind the coulters.
"We're really pleased with the seed placement and germination," says William. "It's done a far better job of getting our spring barley up and away – much better than our old drill."
A Tellus GO in-cab terminal takes care of drill set-up, with the farm yet to take advantage of isobus.
"We're only using auto-steer," he says. "So buying an isobus-ready drill does mean we've future-proofed our drilling for when we do change tractors."
"That said, it's already a very easy machine to use. Seed rolls are easy to swap and calibration is straight-forward," he adds. "I don't have auto start/stop on the drill, so I do need to allow for a little overlap."
Mr Orr is so pleased with the e-drill that he plans to sow oilseed rape with it, this summer.
"We've bought an adapter plate to fit inside the seed distribution head, to blank off every other outlet, to create 25cm row spacings for rape," says William.
With an output of around 2.5 ha/hr, he says output is marginally slower than his previous drill, but it is a compromise worth making for the benefit of better germination and establishment.
"The e-drill has done a fantastic job of getting our spring barley off to a flying start," he says.
22nd August 2018