The Kverneland Taarup 2836 M with 3.55m working width, centre suspension and 125° vertical transport position, the new disc mower is boosting improvements on a number of important areas.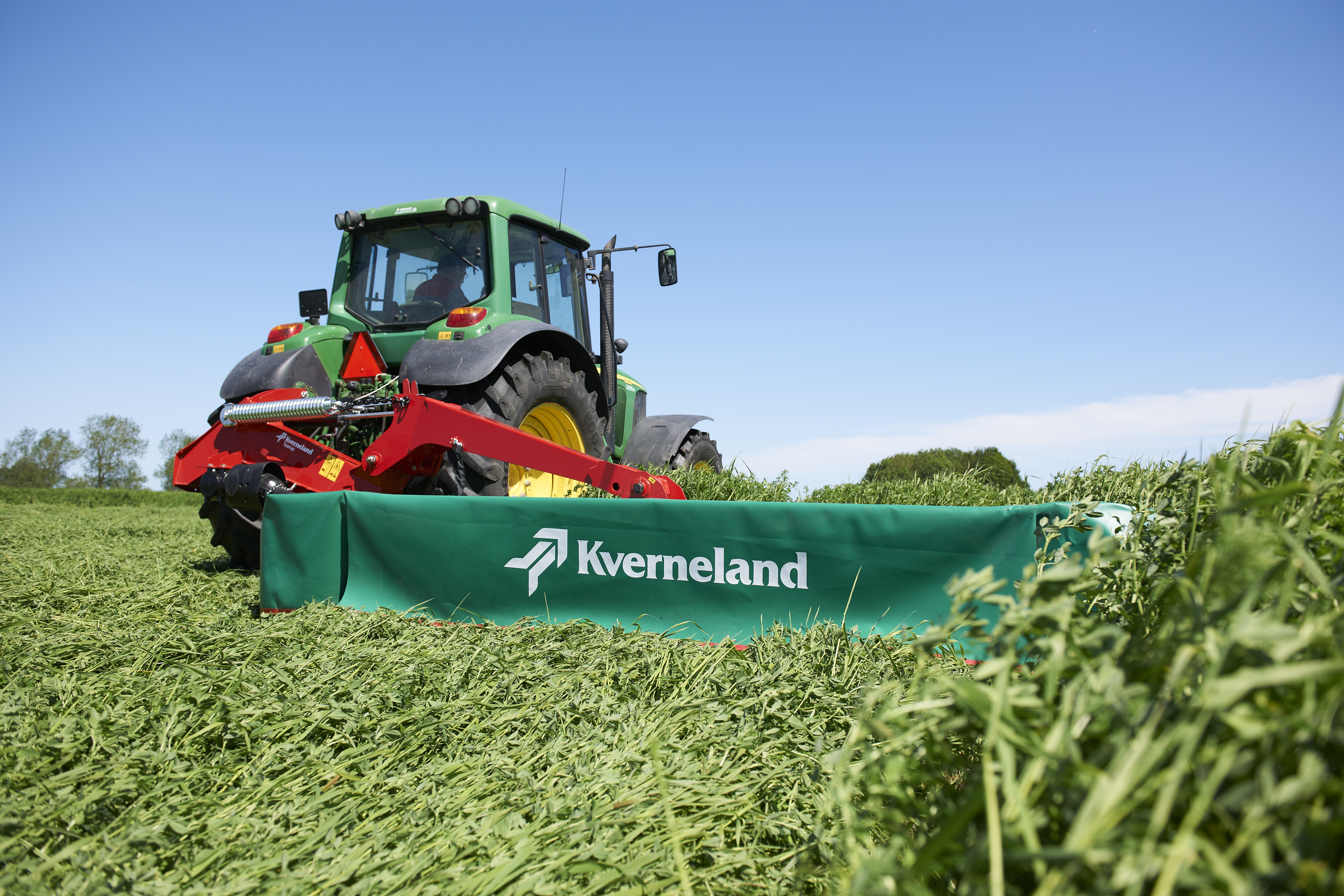 The Kverneland Taarup 2836 M is folded hydraulically into a 125° vertical transport position. The low gravity point during transport provides an excellent weight distribution, with the weight of the mower close to the tractor. Also the weight is distributed evenly to each side of the tractor, which protects both mower and tractor from excessive forces during transport. The tractor and mower remains well balanced even at high speed road transport. Transport height is limited, so passing through narrow gateways or under bridges is no problem.
The new 2836 M model is centre suspended via a suspension spring, to give an even weight distribution across the complete mower width. Faster and more precise adaptation to ground contours is also achieved because of the centre suspended design. The benefit is less skid wear and optimum protection of the stubble.
The 2836 M is factory fitted with the option of being operated with either 540 or 1000 rpm. It requires no additional accessories. All that is needed is simply to turn the main gearbox on the suspension 180°.
To offer maximum protection of the cutterbar the 2836 M is fitted with the Kverneland Taarup feature BreakBack. When encountering an obstacle, the BreakBack will swing the machine backwards and over the obstacle, returning to its original working positon once the obstacle has been passed.
Combined with a 3.2m 2832F on the front, this would give a mowing combination capable of effortlessly handling 6.5m of grass with a tractor of just 120hp.
Kverneland Taarup 2836 M– Specifications in Brief:
| | |
| --- | --- |
| | 2836 M |
| Working Width | 3.55m |
| Weight | 880kg |
| Power Requirements | 47 kW/65 hp |
| PTO | 540/1000 rpm |
| Number of discs | 9 round discs |
2nd May 2013