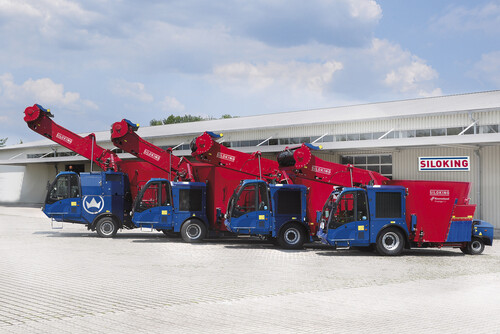 Following an initial term of 6 years of the distribution agreement whereby Mayer Maschinenbau GmbHmanufacture and Kverneland ASA distribute the range of Siloking-Kverneland Vertical Mixers a new distribution agreement has been signed between the 2 parties.
The Distribution Agreement covers the complete range of Siloking Vertical Auger Mixers – trailed, static and self-propelled, which are manufactured at Mayer's specialised production facility in Tittmoning (Germany). Kverneland are responsible for the distribution, sales, marketing & after sales of the Siloking-Kverneland branded range of Vertical Mixers in many European countries, includingFrance,UK&Ireland,Scandinavia,Switzerlandplus many others.
Georg Mayer, General Manager and owner of Mayer Maschinenbau GmbH, confirmed that the distribution agreement in place with Kverneland since early 2006 'has been very successful – delivering significant volume and market share. With Kverneland we have a strong and professional partner whose strength in distribution really supports the sale of Vertical Mixer technology. We are very pleased that we are able to extend this successful agreement for the next years'.
"Since 2006 we have seen a significant growth in our market position on Mixer technology thanks to the Siloking-Kverneland range' addsTim Comer, Product Director in Kverneland. 'This range is extremely important to Kverneland as it ensures that we have a full product range from grass harvesting right through to feeding. In addition the specialised knowledge of Mayer GmbH ensures that we can offer market-leading technology to our customers, which supports our customers in optimising their own businesses".
The signing of the new agreement underlines the strength in the relation between Kverneland and Mayer GmbH. Importantly the new signing coincides with the full launch of the new Trailed Vertical Mixer range (later in 2012) and the introduction of latest versions of the Self-Propelled mixers in the near future. "We are entering another very exciting period with our Vertical Mixer range – new look, new features, innovative control technology and much more. Completely new products plus a strong distribution partner in Kverneland – the future looks very positive".
19. March 2012