Below you find a brief presentation of the Kverneland news that will be shown at our stand:
IsoMatch GEOCONTROL and GEOSPREAD
Kverneland Group introduces GEOCONTROL and GEOSPREAD on the Kverneland ISOBUS 11783 compatible weighing spreaders to optimize spreading operations. Kverneland Group is now defining new standards on even more accurate spreading, by introducing GPS possibilities on our weighing spreaders. Even more accurate spreading is now simply possible by using GPS solutions.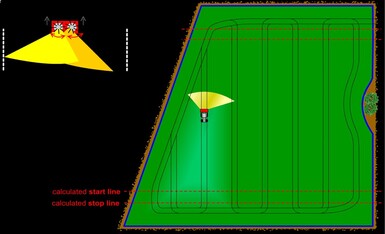 Kverneland Accord FlexCart, Seed Drill
With the FlexCart, Kverneland Accord is introducing a new seed cart with 4,300 litres hopper capacity, to improve efficiency e.g. when seeding maize with fertilizer placement application on larger fields.
Kverneland 150 Variomat, Mounted Reversible Plough
Kverneland now introduces the 150 Variomat serie B and S at Agritechnica Inspired by the design of the ES plough, the 150 plough series is built for professional farmers having light to medium soil conditions. This Kverneland' system has been the market leader for many years. The degree of 'finish' of the furrows and the capacity of the plough can be adjusted by regulating the ploughing width.
Kverneland Packomat
Kverneland now offers a lighter than ever Packomat for wider ploughs which reduces the necessary lifting capacities. The Kverneland unique steel and heat treatment technology was already contributing to lighten the equipment, while ensuring its robustness against the toughest of soil conditions.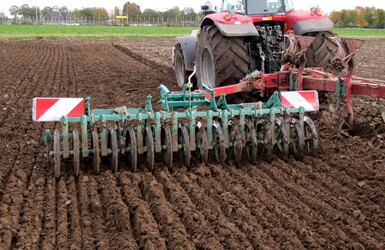 Kverneland Rau iXtrack Trailed Sprayer Range
Are you ready for a new iXperience? The new iXtrack trailed sprayer range offers tank volumes from 2400 up to even 5000 litres in combination with HSS 18-36 metre steel booms or HSA 24-33 metre aluminium booms. On iXtrack C is also the HBWP boom from 36-45 metre available. The iXtrack has a low centre of gravity and compact dimensions for higher working speeds and easy transportation on the road. The iXtrack sprayer range is also available with ISOBUS intelligence for features like the IsoMatch Tellus terminal, IsoMatch GEOCONTROL, ErgoDrive headland management and Boom Guide spray height control system.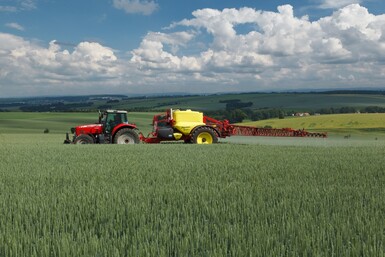 Kverneland Rau iXtra Front Tank
With the iXtra front tank the work force will be extended. With a nominal volume of 1.100 litres (maximum volume nearly 1.300 litres) the iXtra can add even more than 60% to your mounted sprayer volume. The iXtra has a low and compact design. This means safe on the road during transport and visibility of seed rows and tram lines in the field. The iXtra front tank will be availabe in combination with the iXter mounted sprayer range.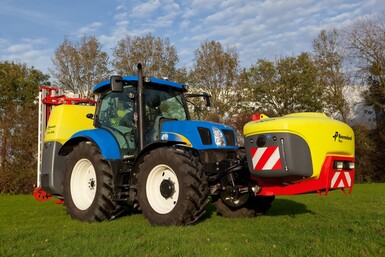 Kverneland Taarup 4300 Series, Trailed Mower Conditioners
Kverneland Taarup now introduces a new range of Kverneland Taarup trailed mower conditioners in working widths from 2.8 – 4.0m. A new mower offering improved design of the suspension, with up to 4 springs, and more accurate ground followings.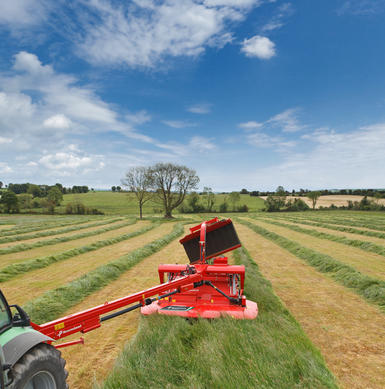 Kverneland Taarup 853, Bale Chopper
The Kverneland Taarup 853 offers a new swivelling chute option. The new swivelling chute can be used for both bedding and feeding purposes and allows the operator to accurately direct bedding materials into otherwise inaccessible areas of the building.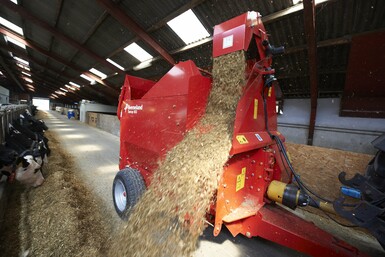 New Wireless Control Terminal for Vertical Auger Mixers
The new Wireless Control Terminal is a combined weighing and control system that gives you full control of all important functions, for instance during the loading process. All relevant information is shown on a large and very clear digital display. Communication between the control terminal and the computer, box fitted onto the mixer, is done wireless, without the need for any cables connecting the mixer and the terminal inside the tractor cab. So no more broken cables.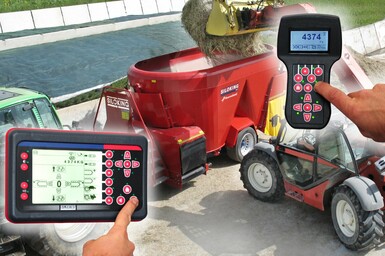 Kverneland Accord Spreading Charts Application for Smart Phones
The new smart phone application for the Kverneland Accord spreaders will make it even easier to setup your spreader. By installing this new spreading chart App on your smart phone, you will get direct access to the results of specialised testing and fertiliser experience. In just some steps, this App will guide you to the right settings of your spreader, anytime, any place any where for almost all commonly used fertiliser types. The App will be available for smart phones with Android operating systems, like HTC phones and for Apple's iPhone (iPad, iPod touch).