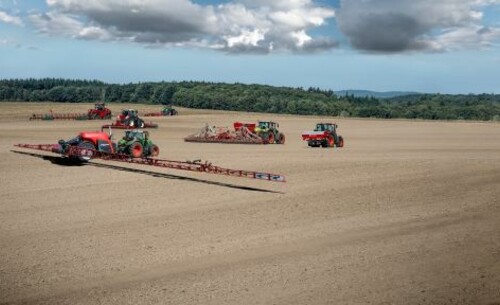 Kverneland Group is a leading international company developing, producing and distributing agricultural machinery and services. Strong focus on innovation allows us to provide a unique and broad product range with high quality. Kverneland Group offers an extensive package aimed at the professional farming community, covering the areas of soil preparation, seeding, forage and bale equipment, spreading, spraying and electronic solutions for agricultural tractors and machinery for the brands Kverneland, Kubota and Vicon. The Group was founded in 1879 and has factories located in Norway, Denmark, Germany, France, The Netherlands, Italy, Russia and China. The Group has own sales companies for 17 countries and exports to another 60 countries.
Kverneland Group is part of the Kubota Corporation, which has a strong ambition to support and solve problems in food, water, and the environment leading the way to a more sustainable world. Since 1890, Kubota has been a leading manufacturer of agricultural, turf, hay and construction equipment and produces a diverse line of other products including water filtration systems, irrigation, piping, roofing, housing and large underground valves. With Headquarters in Osaka Japan, Kubota has a global workforce of 41,000 employees distributed throughout our offices in more than 110 countries in North America, Europe and Asia. In 2020, Kubota achieved revenues over $17.6 billion.
Kverneland Group UK Ltd based in St Helens, Merseyside is seeking a highly motivated individual to join the team as a Demonstrator for West of England and Wales. Your role would be to demonstrate the machinery in co-operation with our dealer network, direct to customers and at dealer events.
The Demonstrator will report directly to our Sales Manager and will work with our four Key-Account Managers, covering the entirety of our portfolio of implements.
Requirements:
Formal agricultural qualifications
Previous experience in the agricultural sector with modern agricultural machines
Hands-on practical approach, with the ability to demonstrate our range of products
and to handle ISOBUS & GPS technology
Strong communication and interpersonal skills
Good time management skills.
This role will likely be remote with a preference for candidates residing in the assigned area to be served.
This role required frequent travel to our clients' locations.
Due to a large number of applicants, the department will prioritize the most qualified for the role. Only candidates who fall within this category will be contacted.
Apply in Writing with a full CV to :
David Furber
Sales Manager
Kverneland Group UK Ltd
Walkers Lane, Lea Green
St Helens, Merseyside
WA9 4AF
Or e-mail to: info-uksales@kvernelandgroup.com
Closing date  30th April 2021