From Coulbeck Farm, Barrow upon Humber, John Roe of JR & M Roe keeps a keen eye on forage quality.
With his fair share of stones to manage on grass leys, rolling is an essential part of silage-making preparations. But taking things a step further is the use of a Kverneland 4332LT complete with BX swath belt, supplied by local dealer Farmstar.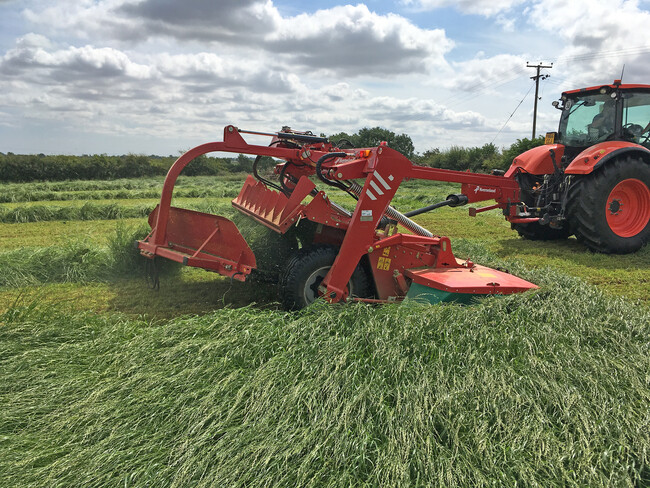 "The less we have to move our grass, the better forage we can produce," he says. "And this means we've stopped raking, and instead use a mower with a swath belt."
Mindful of crop contamination, he says that the effects of raking can be detrimental on his farm's soils.
"We put a lot of effort into rolling our grass, but itis not a total solution," he adds. "And this is where a swath belt comes in."
With foraging carried out using a Claas 860 self-propelled machine, a generous swath is needed to keep forward speed under control and keep the forager working to its full potential.
"The obvious answer is a rake, but we've not raked any grass since we bought the Kverneland mower with BX swath belt. It's brilliant."
Used in combination with a Kverneland front-mounted mower conditioner, Mr Roe's outfit has improved crop flow and logistics, and enables up to 9m of grass to be placed in one swath.
"We've no lumps in our swaths, so the forager works so much more smoothly too," he says.
With 600 cattle on the farm, including 100 heifers, high quality silage holds the key to unlocking the potential in his livestock.
"We grow 60 acres of maize and take several cuts from 50 acres ryegrass leys, and supplement the forage with barley," he adds. "Modern conditioners are so effective that it can be very easy to over-dry silage and a little moisture in the forage is beneficial for our cattle - and this is another area where the BX swath belt helps."
April 2019