As herd numbers have grown, and feed rations extend, Tom Cornthwaite and his team at the 750-acre Cornthwaite Moors, Hambleton, Lancashire, needed to improve its feeding regime.
The farm has enjoyed considerable success over the last five years with its twin-auger 26 cubic metre Kverneland Siloking 3022-26. But the need for an increased mixing capacity was ever-present, with its 600-cow milking herd, plus followers.
"We had reached a stage where we were over-filling the feeder to keep up with the feeding regime," explains Tom Cornthwaite. "We needed a little more tub volume, and ideally, a 30 or 32 cubic metre model would have done the trick. But the extra volume came in height, and these taller models wouldn't gain access some of our more traditional buildings."
"Our only option was to go lower, and longer," he says.
The answer he needed came from the 4.0 System 1000+ range, in the guise of the 4535-35 – the smallest of three, triple auger, three-axle machines in the Kverneland Siloking range, which was supplied by local dealer TH Horn. With a 35 cubic metre mixing capacity, it offered an increased mixing volume for the farm, plus a little extra capacity should stock numbers increase.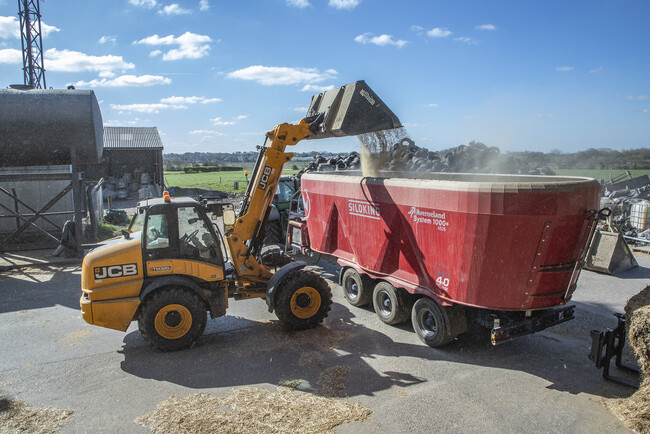 "Importantly, the feeder was lower, so it would fit into all of our older sheds," he says. "But being a triple auger model, it was longer – much longer. And when it turned up I was a little bit concerned about its length."
At 9.9m overall length, the 4535-35 differs from its 40 and 45 cubic metre siblings in tub height – the two larger capacity models increase in height from 3.06m to 3.32m and 3.53m respectively.
But that length soon disappears thanks to a passive steering system on its front and rear axles. This boosts manoeuvrability, making the feeder much more agile than the farm's predecessor. And any concerns about size soon disappeared when the feeder was put to work.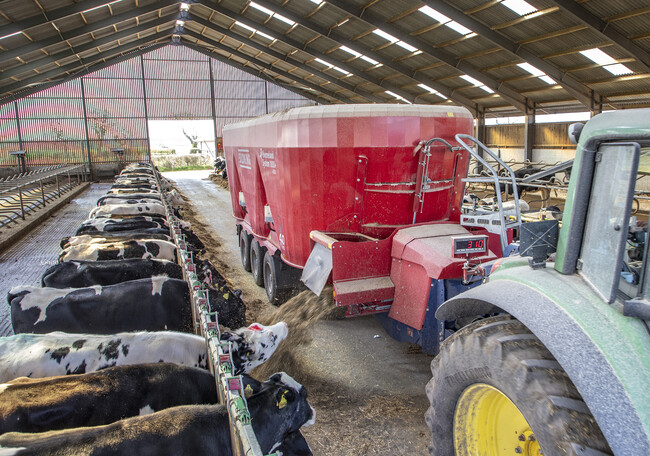 To keep on top of feeding duties for the 1,200-head dairy farm, the task falls to two operators – Greg Watson and Andrew Ashworth-Fare. Both work on a rotation to ensure the seven-day process runs like clockwork.
"I was a bit nervous at first," says Greg. "But after a couple of days, you soon realise that the feeder isn't that big and it turns impressively well – when you watch it moving in and out of sheds, you can't quite believe how easily it turns. It's kind on tyres, and also gentle on the yard too."
"And the axles can be locked using a spool valve, when you need to reverse," he says.
With around eight mixes being prepared on a daily basis for multiple feeding groups, the 4535-35 feeder is certainly a big step up.
"We're no longer over-filling, so ration presentation is greatly improved," says Greg. "And you can see that with the way rations are consumed. It does a great job of mixing so we can keep the cows well-fed."
With a sliding cross conveyor and the latest wifi-based data transfer for feed rations, he says feeding has been vastly improved with the new machine.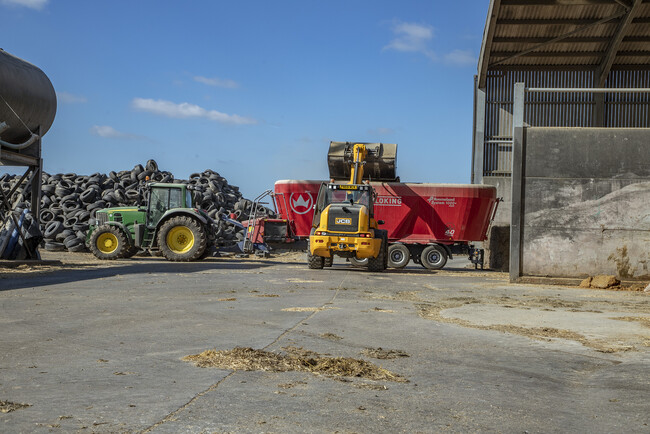 "We've become much more efficient, so our different groups of cows are being fed quicker and with a better ration," says Greg. "With a second control box in the telehandler, which links directly to the feeder, I have instant access to rations and ingredients."
"It's a much better machine than the last one, and the latest technology makes loading and mixing times as short and as efficient as possible," says Greg.
April 2019