"As a high-speed shallow cultivator to encourage a flush of weeds, the Qualidisc is a really useful piece of kit," says operator Martin Rockall, who runs the 950-acre farming operation for his employer, the Bowden family. "The Qualidisc really does encourage a lot of growth."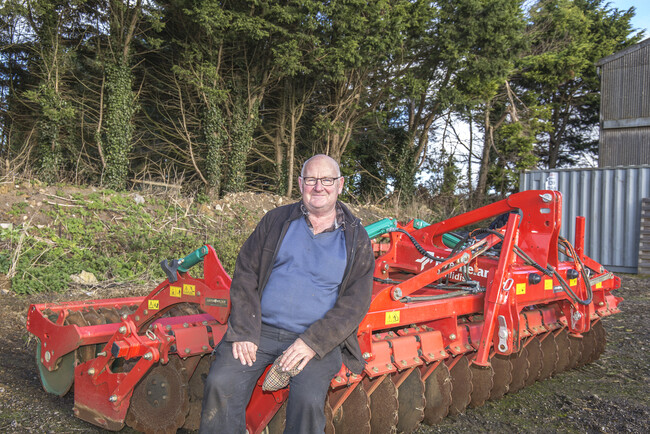 "I have to choose kit that is going to be productive and efficient" says Martin Rockall.
Growing winter wheat, spring barley, maize, grass, stubble turnips and mustard – the latter as a cover crop - the farm operates a mix of min-till and rotational ploughing. And winter ploughing suits spring-sown cereals and maize.
"Our soils range from sand to heavy clay, so we need to make full use of different cultivations systems combined with sprays, to stay on top of grass weed control across the farm," he says.
"If time allows between, I'll make two passes with the Qualidisc then spray ahead of the drill," he adds. "But there's only me doing fieldwork at Bradley Farm, so I have to choose kit that is going to be productive and efficient."
"There is space between the discs to deal with any amount of trash and stubble. It sets up the seedbeds really well for cereal drilling, for which I use a 4m Kverneland s-drill Pro and NG-S power harrow combination. And I also have a 6m ts drill for stubble turnips, mustard and grass seed," he adds.
Supplied by Lister Wilder, the 4m hydraulically folding Qualidisc affords good output from a high forward speed, while encouraging a flush of volunteers and weeds, post-harvest. Yet the cultivator is equally as competent at deeper work, ahead of maize drilling, as Martin explains.
"We plough through winter, ahead of maize, to let the weather help us on heavier soils," he says. "And then I'll run the Qualidisc through but at a much deeper setting ahead of the maize drill. This loosens the soil nicely, while leaving a firm finish on top for the drill."
27th March 2018