"It's a two-fold process," explains Will, who manages Woodhall Growers farming operation for its owner Richard Shropshire, based at Codsall Wood, Wolverhampton. "The remaining crop is at risk of a mildew attack which can be caused by residues left on the surface, so this needs rapid incorporation and dispersion."
"And giving the empty onion beds a good scuffling also leaves a level, firm surface from which the next day's harvesting team can operate safely when packing and transporting produce from the field."
Woodhall Growers produces spring onions and organic red beet as a co-operative member of G's Growers. Spring onions are harvested on a daily basis from May to September to meet pack house orders, which means the cultivator is used to tidy up small areas each day, post-harvest.
In addition to spring onions, the 1,200-acre farming business grows grass and potatoes, and produces spring-sown organic cereal crops too.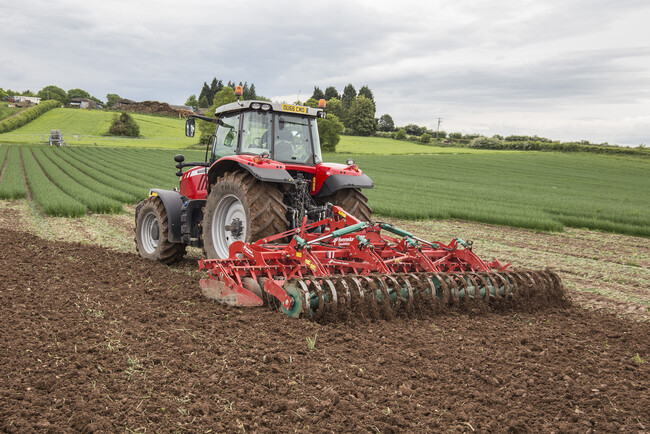 Will Woodhall reckons the Qualidisc cultivator provides rapid incorporation and dispersal of trash immediately after harvesting spring onions.
"We choose to lightly cultivate cereal stubbles in the autumn with the Qualidisc to encourage a flush of weeds, so we can clean-up mechanically," he says. "Its output is tremendous, and this is where the Qualidisc's versatility shows up, with either shallow or deep cultivations."
Replacing a 3m disc harrow, Mr Woodhall says the Qualidisc has brought effectiveness to the onion harvest, and convenience to cereal stubbles, and it was financed by G's Growers using funding from the EU fruit and veg regime.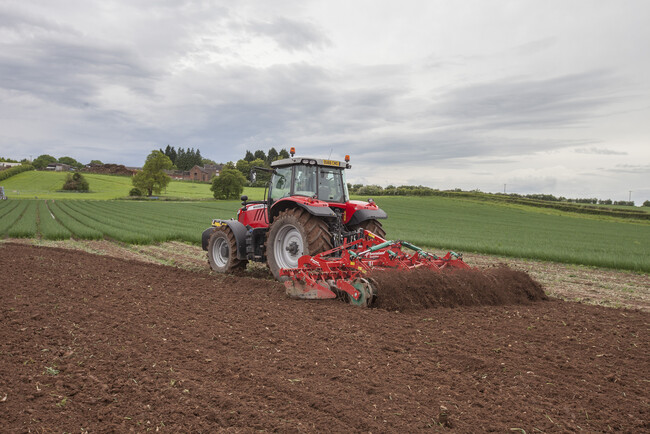 5m Qualidisc offers versatility through deep or shallow cultivation.
"Generous spacing between rows of discs makes it easy for trash to be chopped and incorporated, and for soil to flow through the machine rather than clog-up or bull-doze," he says. "And this makes it easy for the flexi-packer roller to reconsolidate ground. It does such a good job in one pass, that we'd struggle to work so effectively without it."
13th September 2017