Such a workload places considerable demand on mowing equipment, and is why he operates four Kverneland mowers in his fleet. His latest purchase is the new 3232MN rear mounted mower conditioner, which he runs in combination with a front-mounted 3632FT, giving a 6.2m combination.
"We've cut back on tractor power, moving from a large, heavy 200hp machine to a much lighter 150hp model and it is comfortably in charge of our mowing combination," he explains.
The 3232MN was launched at Grassland 2014 in response to customer demand.
Offering a 3.2m working width, the twin-bladed, eight-disc mower uses a nylon tine conditioner helping to reduce overall machine weight when compared to steel tined versions.
Aggressive conditioning capability is maintained by offering two conditioner rotor speeds for the rigidly mounted nylon tines, as Darren Martyn confirms.
"I like the mower's transport solution – it folds upwards across the back of the tractor and keeps mower weight close to the tractor," he says. "This improves stability and makes a compact outfit that is easy to thread along narrow lanes and through tight gateways."
"We have a highly efficient mowing outfit that is compact and manoeuvrable, and can be used with any of our tractors equipped with front linkage and pto," he says. "Cutting quality is superb and the full width spreading hood is a huge benefit for wilting – it saves a pass with a tedder."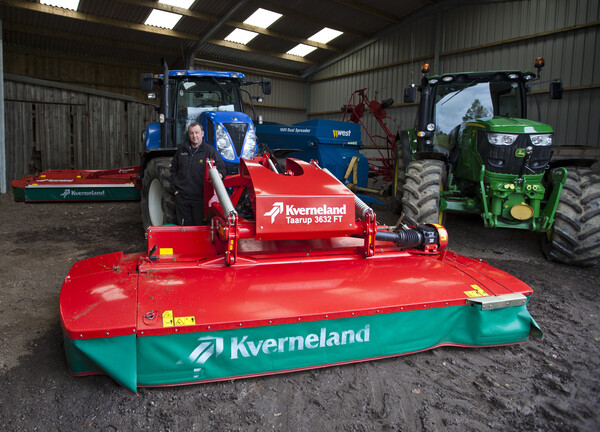 Darren Martyn says the cutting quality and full width spreading hood from his Kverneland mowers saves a pass with a tedder.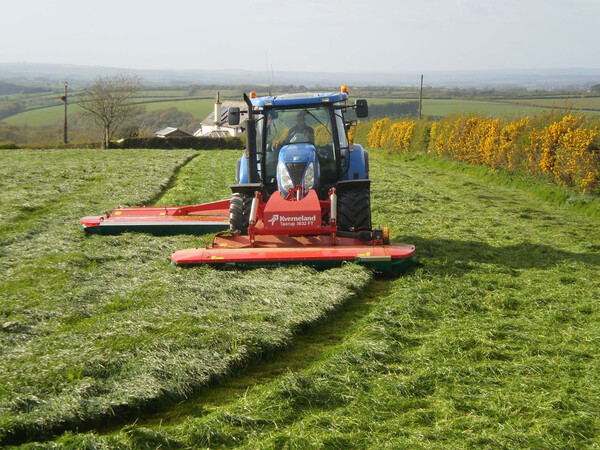 Darren Martyn's 3232MN rear mounted mower conditioner is used in combination with a front-mounted 3632FT to give a 6.2m working width.
9th February 2015