"I saw the spreader and had a long chat about it with Kverneland staff on the stand," he says. "I was very impressed by the technology, so I bought one from my local dealer, Sharmans."
From the 1,011ha estate, Mr Cross grows a range of crops including winter wheat, winter and spring barley, oilseed rape, maize and sugar beet.
The rolling Nottinghamshire countryside provides topographical challenges, which means a 24m tramline system is favoured across the farm.
"I wanted a simple, accurate solution for fertiliser spreading, and the GEOSPREAD is exactly that," he says.
Applying around 350 tonnes of fertiliser annually, Richard says the spreader is saving the farm money.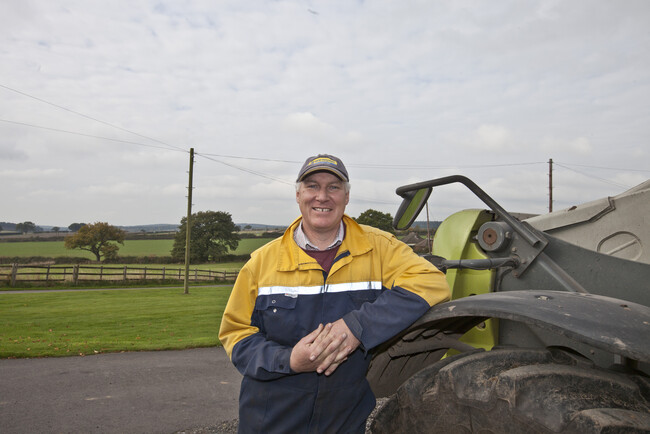 Richard Cross says his Exacta TL with GEOSPREAD is fantastically accurate, and is saving the farm money.
"We've used around 7-10 tonnes less fertiliser this season, using the same application rates," he says. "It is fantastically accurate, and given that all our fields are odd shapes, the spreader is proving to be a huge benefit when it comes to overlaps, and auto stop/start at headlands."
"Looking ahead, this spreader will make it very easy for us to move into variable rate applications with application maps."
The spread also features a hydraulic drive instead of a mechanical pto, and this is an area that offers a fuel saving with the farm's New Holland T7.270 tractor.
"The tractor has an uprated hydraulic pump, so we can run at low engine revs and maintain disc speed for the spreader," he says.
Using an iM Tellus dual screen terminal, Richard Cross is able to make full use of isobus to provide a single control box solution, reducing in-cab clutter.
"Technology can be complex, and compatibility issues are still an area for concern – but not with this system," he explains. "I can use the same terminal to run my spreader and my 4.8m Kverneland TS Evo drill."