The IsoMatch Simulator is an easy to use PC application to demonstrate use of the IsoMatch Tellus dual screen universal terminal with Kverneland equipment. This software development makes it very easy for dealers, customers, operators and students to learn about precision farming and isobus technology on any computer.
By providing all the functions of the IsoMatch Tellus directly on a PC, the IsoMatch Simulator allows virtual training before buying or using equipment. This makes it much easier and quicker to familiarise yourself with the features and benefits of Kverneland isobus machines, without needing a tractor or an isobus implement.
Using integrated GPS simulation, PC users can replicate operations as if they are in their own fields. Such innovation makes it possible to go through set-up processes in advance of fieldwork, to ensure productivity is boosted.
For our dealers, the IsoMatch Simulator creates the opportunity to demonstrate the benefits of the IsoMatch Tellus to potential customers. In addition, the system offers further advantages as a support tool. Engineers can help customers over the phone by simulating exactly what they see on their in-cab IsoMatch screens, and working through operational problems button-by-button.
The IsoMatch Simulator will be available to download free of charge from http://www.isomatchtellus.com, following its live launch at Agritechnica later this month.
IsoMatch InDemo is a portable demonstration kit that simulates Kverneland implements on any isobus tractor without connecting real machines. We are the first and currently the only company in the market that provides this innovative solution.
The IsoMatch InDemo kit uses 'sticks' measuring 15cm long, and with an integrated isobus plug. Each 'stick' represents a different implement and when plugged into any isobus tractor, it functions as if it is the genuine implement. The user interface of the machine is then visible on the in-cab terminal and functions such as section control with a spreader or seeder for example, can be used.
For the end user, IsoMatch InDemo provides more transparency with compatibility and allows operators to check and experience implement functions and capability with their tractor.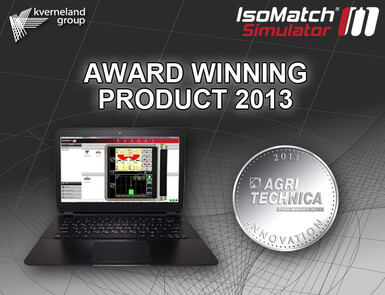 4th November 2013