A Cutterbar Built to Work as Hard as You!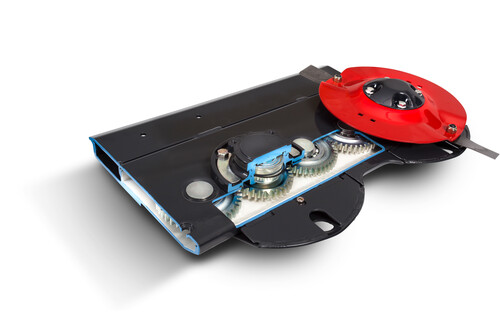 The Kverneland Taarup cutterbar has been designed for hard work.
Several design features support this fact, including the well established round discs for a clean and aggressive cut and an extremely strong fully welded cutterbar housing which eliminates oil leaks. Furthermore a high oil volume ensures excellent lubrication and cooling during operation. The gear wheels, with their unique rounded design, are tooled to perfection for silent yet reliable power transmission.
Round Discs – Outstanding Cut and Perfect Protection
The round discs have always been a known Kverneland Taarup hallmark.
The unique circular design means that a constant distance is kept between the outer edges of the discs. Stones are expelled immediately before risking blockage, which reduces shock loads on the transmission to an absolute minimum. This in turn improves durability and maintenance substantially.
Kverneland Taarup ProFit - For Quick Change of Knives
With the Kverneland Taarup ProFit quick knife change system, maintenance of the cutting ability is easy. The knives are changed by a simple operation using the special lever - delivered with the ProFit package. The lever is placed around the bolt, the spring is easily pushed down by turning the lever and the knife is ready to be replaced by a new one.
Kverneland Taarup ProFit is designed for standard discs and can therefore be fitted on all existing cutterbars.
Safety In Mind
The knives are securely fixed via a spring, which is fitted with the disc on the hub. This minimizes the possibility of grass being caught by the spring and also reduces friction between spring and cut-terbar.When encountering an obstacle, the spring will be pushed upwards, reducing the risk of loosing knives.
30. April 2012