Kverneland Taarup 5087 M – Butterfly Combination
Kverneland introduces its new flagship, the new plain disc mower butterfly. A combination that provides efficient performance with its 8.75m working width paired with a low weight design. The Kverneland Taarup 5087 M is purpose build to low operating costs in terms of power and fuel consumption, with power requirements starting at only 110 hp.
The centre suspended mowing units in combination with the Kverneland Taarup cutterbar with round discs offers an unmatched mowing performance. The Kverneland Taarup BreakBack solution protects the cutterbar from foreign obstacles, and automatically returns the mowing unit to working position..
The new Kverneland Taarup 5087 M is an eco-friendly, energy saving solution able to work on tractors with as little as 110hp. The low weight of only 1600kg together with the ideal weight distribution that butterfly combinations offer gives the optimum combination of low power requirements, low weight and high efficiency.
Kverneland Taarup 2832 F - Front Mounted Disc Mower
With a working width of 3.2m and an operating weight of only 682kgs, the Kverneland Taarup 2832 F needs only 55hp to operate. Combined with a 3.2m 2632 on the rear, this would give a mowing combination capable of effortlessly handling 6.2m of grass with a tractor of just 120hp. It offers a high capacity, low weight, low power solution for those who do not require intensive grass conditioning.
A compact machine, this mower keeps its centre of gravity close to the tractor to allow a good view of the mower from the tractor cab, while maintaining excellent flotation characteristics and reduced ground pressure. The cutterbar moves independently from the front linkage, delivering a great range of movement with up to 17-degrees of lateral float, which sets the standard in this segment.
Highly responsive kinematics incorporated into the headstock design also intervene to protect the mower. To ensure shock loads are minimised, the break-back solution allows the mower to simultaneously move backwards and upwards, to quickly clear obstacles without risk of damage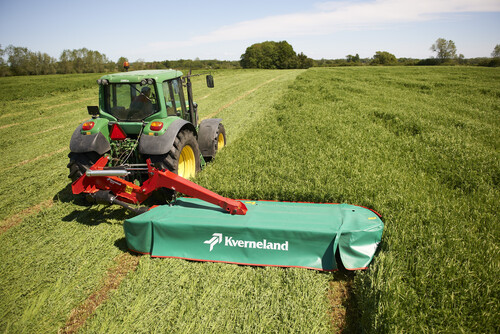 Kverneland Taarup 2836 M - New Centre Mounted Disc Mower
With 3.55m working width, centre suspension and 125° vertical transport position the new Kverneland Taarup 2836 M disc mower is boosting improvements on a number of important areas.
The Kverneland Taarup 2836 M is folded hydraulically into a 125° vertical transport position. The low gravity point during transport provides an excellent weight distribution, with the weight of the mower close to the tractor.
The new 2836 M models is centre suspended via a suspension spring, to give an even weight distribution across the complete mower width. Faster and more precise adaptation to ground contours is also achieved because of the centre suspended design. The benefit is less skid wear and optimum protection of the stubble.
The 2836 M is factory fitted with the option of being operated with either 540 or 1000 rpm. It requires no additional accessory. All that is needed is simply to turn the main gearbox on the suspension 180°.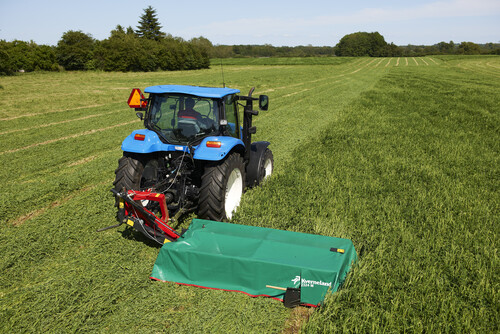 Kverneland Taarup 2320 M – 2324 M – Plain Disc Mower
Kverneland Taarup 2300 series machines are designed for smaller mowing operations. With working widths ranging from 2.15 to 2.40m and with corresponding weights of 430 and 495 kg respectively, these machines are perfect for farmers looking for a compact mower with low power requirements.
The 2300 series mowers are built around the Kverneland Taarup cutterbar which has several unique design features, including the well established round discs for a clean and aggressive cut and an extremely strong, fully welded cutterbar housing which eliminates oil leaks.
21. November 2011