Kverneland Norway is the leading manufacturer of quality ploughs. This reputation has been developed by producing robust ploughs delivering high performances over years. The 14 furrow PW/RW semi-mounted reversible ploughs is certainly the flagship of the factory. The ES mounted reversible plough has also proved its reliability and versatility worldwide!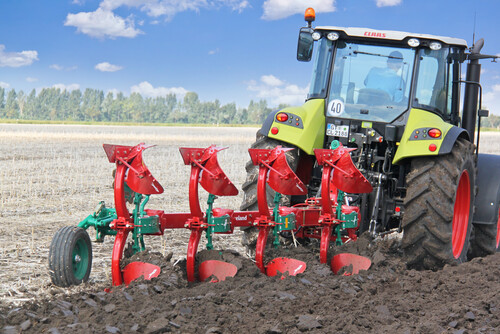 Kverneland 150 plough serie
Inspired by the design of the ES plough, the 150 plough serie is built for professional farmers having light to medium soil conditions. They also benefit from the Kverneland Steel Technology ! The success of the 3 to 5 furrow 150 B (Bolt) and 150 S (Spring leaf) for stony conditions is immediate. Kverneland now introduces the 150 Variomat serie B and S at Agritechnica (Hannover Nov.).
New Frame for more robustness!
150x150mm for both 150 Variomat B & S. Ploughs are extendable by one furrow. Available in 3 to max. 4 furrows for the 150 S Variomat and 3 to max. 5 furrows for the 150 B Variomat. The main frame is induction heat treated to the same standards as all Kverneland ploughs, thus providing the necessary strength and support for the toughest of conditions.
Variomat (Vari-Width® system): Easy furrow width adjustment - Variation on the move!
World-patented system for mechanical or hydraulic furrow width adjustments. This Kverneland' system has been the market leader for many years. The degree of 'finish' of the furrows and the capacity of the plough can be adjusted by regulating the ploughing width. It is hence possible to plough wider, quicker, better and at a lower cost.
Headstock for intensive use!
The position of the head stock is ideal: as close to the tractor as possible, it reduces tractor lift requirements, especially compared with other makes. "One piece concept" with specially heat treated 110mm Ø main shaft for maximum strength. Head stock for tractors up to 150 HP. Optimum hose lay out. Choice of cross shaft, category II and III or quick coupling option
Very efficient Kverneland Auto-Reset system!
A unique system that withstands the toughest forces while guaranteeing a longer life to the "S" ploughs: when hitting an obstacle, the pressure on the point, frame, plough parts, decreases instead of increasing ! Moreover, a better ploughing is achieved by having bodies releasing independently one from another!
Very convenient: spring packages are pre-adjusted. No maintenance required.