So you'd like to buy an ISOBUS-ready implement to take advantage of plug and play technology, and enjoy the increased efficiency that intelligent machine control now offers.
But there is a snag - your tractor isn't up to spec. And you don't want to go to the expense of swapping the tractor for a newer version. What can you do?
Well, retro-fitting an ISOBUS system to a tractor has never been easier, says the Kverneland Group's Graham Owen. Farmers can buy and retro-fit an IsoMatch Tellus Pro dual-screen terminal kit complete with all the required wiring harnesses with connectors to bring their tractors up to specification. And installation is possible in under an hour.
"We have prepared two kits for buyers, depending on their tractor specification," he says. "For £4,538, we offer a complete kit for non-ISO tractors which even includes the ISO 11783 implement socket."
"And for tractors that are ISO ready, but cannot provide task control capability, we offer a different version of the IsoMatch Tellus kit for £4,125 to get them up to specification." (prices valid from 1st September 2021, subject to change, UK only)
Task Control is where the terminal is able to give commands directly to implements that are ISOBUS Task Control-ready. For example using application and coverage maps, the implement will automatically carry out variable rate applications, section control or auto start/stop at headlands.
Additional cables allow the system to connect into the tractor to provide auto screen dimming with tractor lighting, ignition sensed switching to turn the screen on/off, and to provide a camera input signal – the latter for reversing, or machine monitoring.
Kverneland's retro-fit kits have been designed so they can easily be installed and removed, allowing buyers to keep their ISOBUS options open when the time comes to change the tractor.

 What's in the boxes?
In addition to the IsoMatch Tellus PRO dual-screen terminal, both kits contain all wiring harnesses, ISO 11786 data cables, wireless dongle, instruction manual and a mounting plate and post with fasteners to correctly locate the dual screen display. The non-ISO tractor kit also contains the ISO 11783 connector needed for plug and play implement control and an integral diagnostic connection.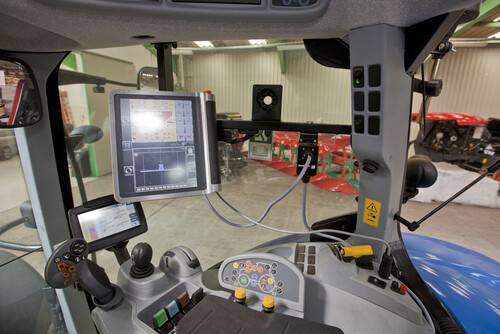 The ISOBUS tractor. Our New Holland T7.200 example is ISO-prepared and is by far the simplest system to upgrade. The IsoMatch Tellus PRO terminal is put onto the tractor's CAN using a 9-pin terminal connection cable.
An additional ISO 11786 sensor input cable - supplied in the kit - can be connected to the tractor's 7-pin socket, where available, to provide forward speed, PTO speed and hitch position, for example, to allow the tractor's performance data to be shown on the IsoMatch Tellus PRO. This cable may or may not be required, depending on what tractor information is available on the CAN.
Other than tidying up the location of wires to create a neat installation, the ISOBUS system is now ready for use. If the terminal is slow to boot up the very first time it is powered up, there may be a need to assign a pecking order to change the 'source addresses' on the in-cab terminals, simply to prevent a conflict. After all, each screen must have its own unique address on the 'bus'.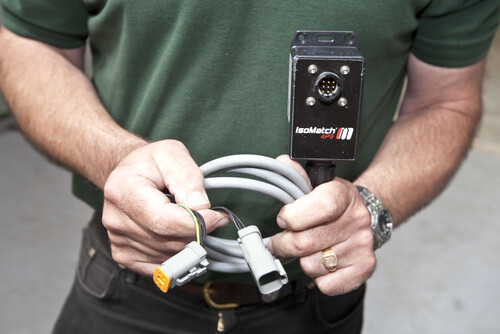 Some tractors have a 9-pin socket in the cab and some don't, because it was never part of the original ISOBUS specification. If your tractor doesn't have a 9-pin socket, this 4P9 connection socket lets you break into the CAN through the existing ISO 11783 implement socket. In addition to letting you get on the CAN, the 4P9 is needed to allow the plug-in of additional switch boxes or joysticks that also need to be on the CAN, for example to use a sprayer.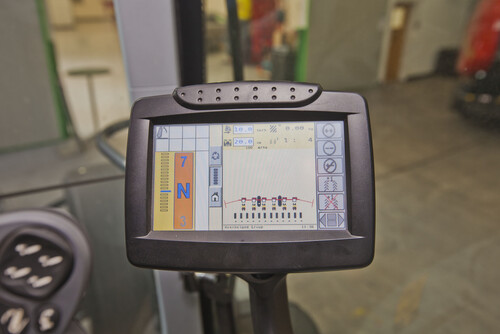 In this example, our T7.200 has an ISO socket at the rear, but plugging in an implement that is ISOBUS Task Control-ready will only allow the Sidewinder II to 'see' the implement. While there is full manual control of the implement by the operator, it does not allow Task Control. Almost all tractor armrest displays work this way. If you want Task Control, then consider retro-fitting an IsoMatch Tellus PRO dual-screen terminal kit and upgrade the tractor to full ISOBUS task controlling capability.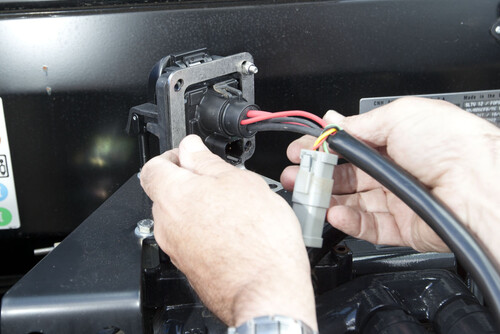 The non-ISO tractor. This New Holland T6.160 is representative of all non-ISOBUS tractors out there, and is no less functional than a tractor that is already ISOBUS prepared. The first item to install is the ISOBUS 11783 implement socket and main power loom. Mount the socket at the rear of the rear of the tractor where it will make implement connections easy to achieve.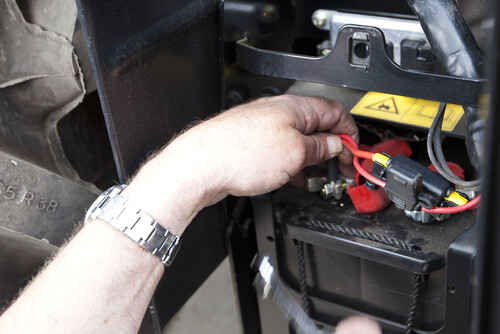 Plug the virtual terminal (VT) lead into the ISOBUS socket and run both wiring harnesses neatly through the tractor – one needs to go into the cab for the IsoMatch Tellus PRO terminal, while the other needs a power source which, in this instance, connects directly to the tractor's battery terminals.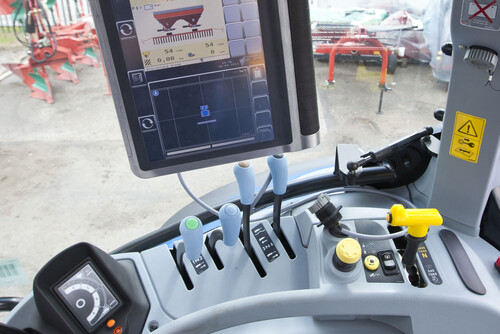 Mount the IsoMatch Tellus PRO screen in the cab – either using a sucker mount or bracket. Then connect the virtual terminal (VT) loom and power up the screen. Depending on the specification of the tractor, it might not have the ISO 11786 sensor output socket. In this instance, for ISO prepared machines that don't have a landwheel, an extra cable is required that enables the connection of an external wheel sensor. However, if the ISOBUS implement has a land wheel, this will provide a speed signal for the system. As our T6.160 was never ISOBUS prepared, it will not have a 9-pin socket – it's not needed, as a switchbox or joystick can be daisy-chained directly into the back of the Tellus PRO terminal.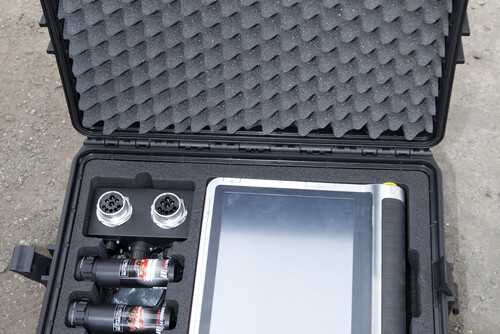 Kverneland dealers have access to an ISOBUS demo kit to simulate implements – it is an ideal way to test the installation without having to hitch up an ISOBUS prepared implement.
The demo kit is also proving a useful resource for telephone support services. Kverneland engineers can trouble-shoot over the phone by simulating exactly what customers see on their in-cab IsoMatch Tellus PRO screen, and guide them, button by button to solve any operational problems.
The simulator kits are also available to other OEM's working with ISOBUS.