Kverneland's fertiliser spreader technology continues to evolve, and the TLX GEOSPREAD flagship model represents further development of the Exacta series.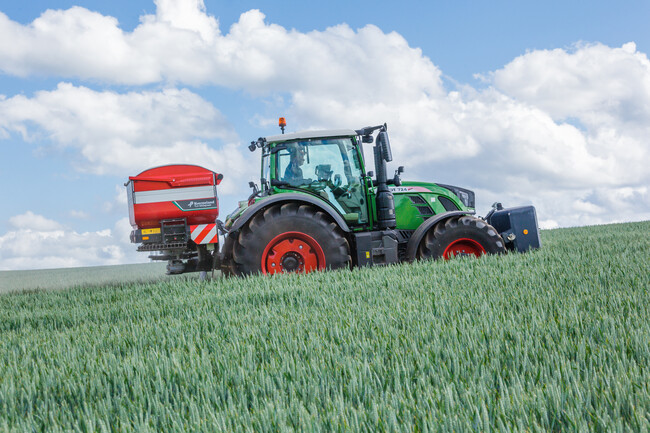 With high output, high speeds and high flow rates as the goal, TLX GEOSPREAD benefits from a much larger CentreFlow distribution system, which sees the maximum flow rates boosted from 320kg/min up to 540kg/min.
Typically a flow rate of 540kg/min can be achieved at a forward speed of 16kph while spreading at a 40m working width. A narrower spread width affords access to even higher forward speeds, boosting output and productivity.
CentreFlow manages the way fertiliser is distributed to the eight spreading vanes, accelerating material up to disc speeds through the dosing cup, preserving material quality.
This technique improves upon the Exacta's already successful spreading patterns, and affords an even higher degree of accuracy with the TLX model, which remains intact when spreading at high application rates and at high forward speeds.
Equipped with GEOSPREAD, the TLX also provides automatic section control in one metre sections. But advances in software have now enabled GEOSPREAD to achieve variable rate fertiliser applications on both sides of the machine.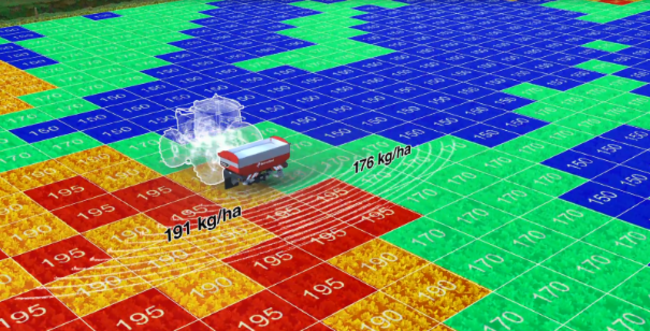 Known as Multirate, this process uses tighter grid sampling and higher resolution maps, to provide up to eight sections of variable rate capability across the full working width.
With Kverneland Multirate, fertiliser spreading performance moves even further away from a single rate blanket application, to enhance precision application to levels previously thought unachievable with a spinning disc spreader.
September 2019