The new Pro series of bale choppers offers a strong package of new features such as redesigned flywheel, new 3-stage swiveling chute, patented feed control system and remote control of tailgate and floor chain.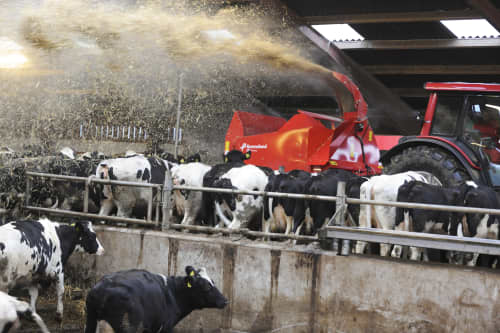 Increased Blowing Capacity
The new 3-stage swiveling Pro chute design, with increased crop flow, in combination with the new designed flywheel paddles secures an optimal blowing effect and thereby a higher capacity when chopping and spreading straw for bedding.
The new 853 Pro is equipped with the new Drum Feed Control System DFCS. A protection comb can be engaged when loading and protects the machine against blockage. When the flywheel RPM is at the right level, the protection comb can be disengaged simply by pushing a bottom and the machine is ready for work.
The 856 Pro is equipped with the well-known 2 drum feed system.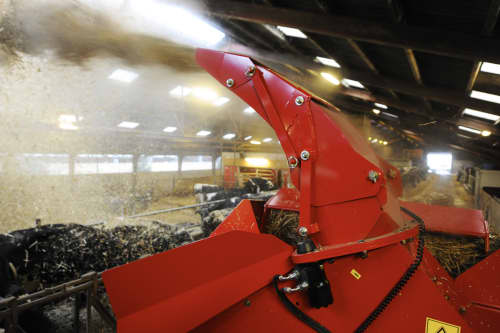 2 Chute Options and Two Speed Gearbox
Both models are equipped with a two speed gearbox making it easy to switch between low and high flywheel speed - low for feeding and high for bedding. To make the machine even more versatile, it is possible to configure the machine with the standard chute or the new 3-stage swiveling chute, to adapt the bale chopper exactly to individual conditions.
Remote Control for Quick Loading
As a new feature you can now operate the tail gate and floor chain with an additional remote control, reducing the need for jumping into the tractor cab during loading of material. It is positioned on the side of the chamber in safe distance from the moving parts. This makes the loading process fast, safe and easy.
Easy Adaptation to Different Bale Diameter
Add on plates on the distance comb can be mounted/dismounted to secure optimal operation, whatever bale diameter you handle.
Kverneland Taarup 853 Pro and 856 Pro – Specifications in Brief:
Bale chopper 853 Pro
and 856 Pro

Cubic volume in m3

3,0 for 853 Pro
6,0 for 856 Pro

Load capacity kg

1700 for 853 Pro
3000 for 856 Pro
 3. February 2014