After the last few years of plug and play simplicity with a TL Exacta weigh cell spreader and Fendt tractor, he has recently traded up to the range-topping TL Exacta GEOSPREAD. "We've been successfully applying fertiliser using variable rate maps for a few years but wanted to seek further efficiency gains at 24m," he says. "And the GEOSPREAD certainly does deliver."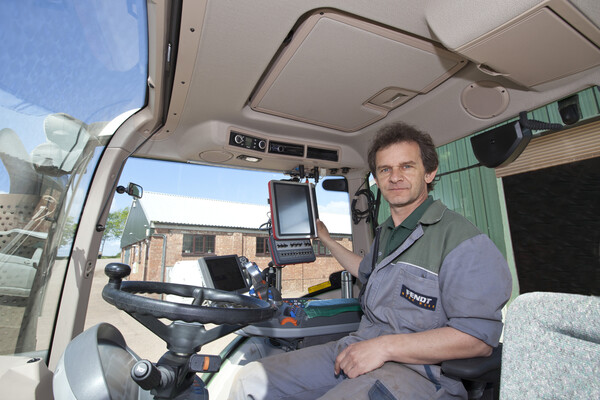 Mr Symonds previous Exacta used two control boxes to achieve variable rate spreading – the standard Focus II and a Blackbox Cruizer.
"This time, I switched to the iM Tellus dual screen display and have a true one-box solution for variable rate fertiliser spreading," he says. "I hate loads of control boxes in cab, and the iM Tellus is the perfect solution for me."
"It neatly integrates into my Fendt cab and plugs in to the roof sockets. There are no wires trailing around – it looks part of the tractor."
Installation aside, he has particular praise for the GEOSPREAD's capability to perform section control and auto stop/start at headlands.
"We are no longer over- or under-applying at headlands," he says. "Winter barley would show up the slightest discrepancy with spread patterns, yet all our crops now look totally even. There are no dark patches, no overlaps, no waste."
While financial calculations of savings are yet to be carried out, he believes the farm is saving fertiliser this year.
"If we're not over-lapping, we're not over-applying fertiliser," he says. "It is a brilliant system."
"And with the simplicity of isobus being plug and play, I'm in no doubt that we're pretty much future-proofed with tractor and implement developments. We couldn't have it any better, or any more efficient."
6th October 2014