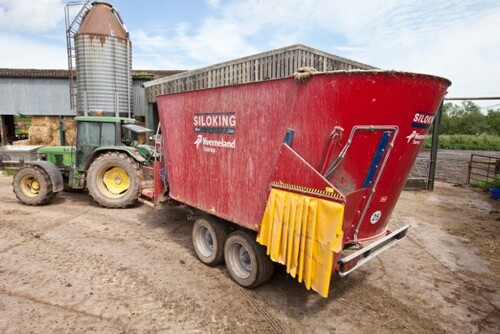 This four-year old Kverneland-Siloking Duo uses two vertical augers to mix rations inside its 26 cubic metre tub. Equipped with a host of extras to assist with feeding, the specification includes twin-lift front cross conveyor, hydraulic rear door and Pro II on-board weighing system. Expect a machine of this size, age and condition to fetch around £15,000-17,000.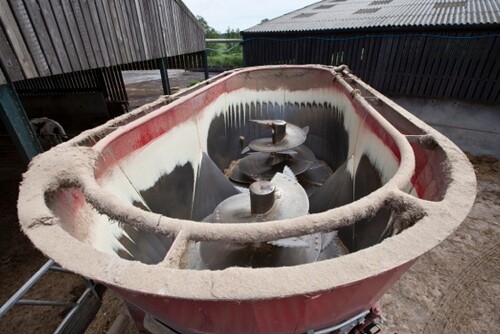 Climb the ladder and take a look into the tub. If the machine has been recently worked, it will reveal much about its mixing and emptying capability. If there's an opportunity to see the machine at work before you buy, take full advantage.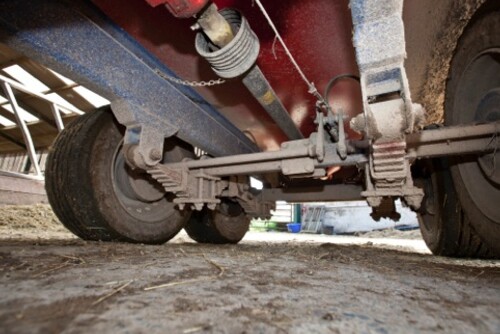 Twin axle mixers often come with a following axle that needs to be locked hydraulically when reversing. It also makes a larger machine as manoeuvrable as a small one. Hydraulic brakes and parabolic leaf springs are robust, but need to be checked – look for broken leaf springs. While under the machine, inspect the main gearboxes for signs of oil leaks and check driveshafts - they do need greasing.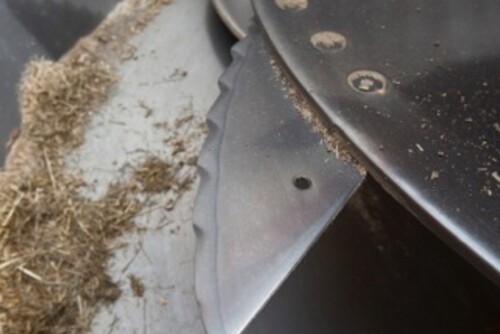 Knives do wear, but with only eight per auger, they are relatively inexpensive to replace compared to a horizontal machine's greater number of smaller blades. Multiple mounting holes allow knives to be fitted in three positions on the Duo, to vary the chopping action to suit a ration's ingredients. Replacement blades cost just £66 each. Adjustable counter knives on the tub body also assist the chopping and mixing action.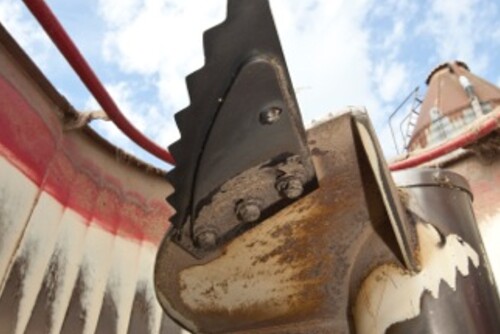 On the Duo range, knives at the top of each auger are carried on strengthening plates – it prevents them from bending when bales are dropped into the tub. Straw ring around the lip of the tub helps to retain bales during mixing, and some models can be fitted with optional tub magnets - useful to catch and retain any metallic objects that may have found their way into forage.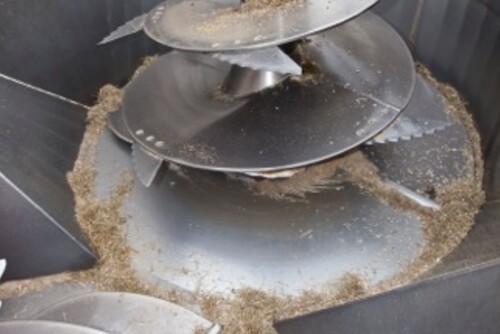 Vertical auger machines are known for offering a gentler mixing action than horizontals, so auger wear is slow. A Hardox repair kit is available for the Kverneland-Siloking augers, though they are rarely sold thanks to the auger's thick plate construction. A dummy paddle is fitted at the bottom of the auger opposite the main flight, which provides balance and helps to keep material on the move – it also helps with highly efficient emptying of the tub.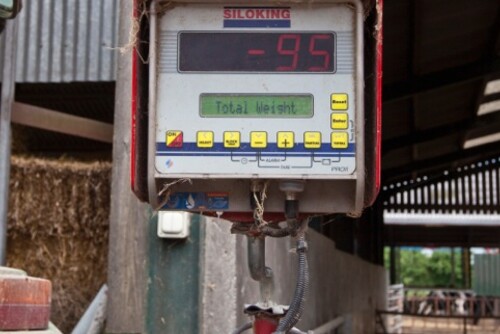 Pro II on-board weighing box is recognised as robust and a preferred option on the majority of Duo models. It allows multiple rations to be stored and uses a large, clear screen to illustrate ingredient type and quantity required. Power up the box to check operation – it will also confirm the four weigh cells under the tub are functioning.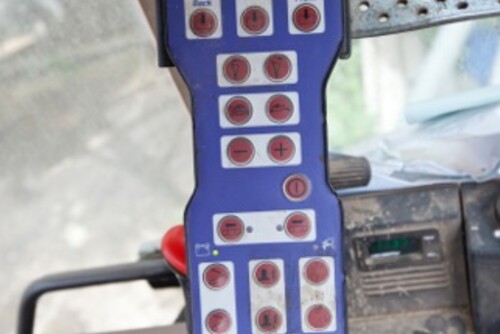 In-cab controller is straight-forward and uses multiple thumb buttons to control machine functions. Depending on machine specification and options fitted, some buttons will not be used. When safe to do so, check machine operation and run through all the available controls to ensure they work as intended.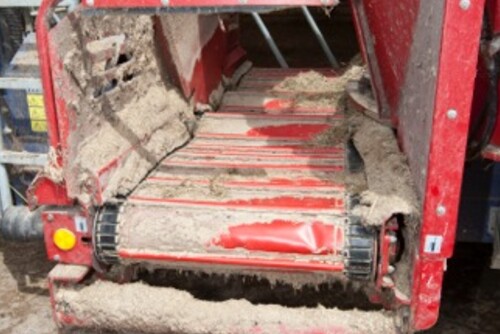 Optional twin lift cross conveyor gets a hydraulic motor at each end, which means regardless of the unloading direction, the belt is always being pulled tight. Inspect the belt for tears, cracks or missing ribs and signs of misalignment. This conveyor is missing both its wind guards, which should be in place to deflect forage into a trough. Optional hydraulic rear door is powered directly off a tractor spool, and is a good insurance policy to have if the conveyor ever fails. It does at least allow you can continue feeding – even if it is only to discharge grub into a loader bucket on Christmas morning when you may struggle to get an effective repair.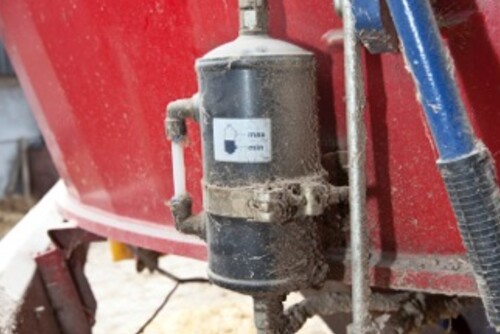 Each auger gearbox on the Kverneland-Siloking Duo comes with its own remote-mounted oil reservoir located on the side of the tub. This makes it very easy to inspect oil levels and top-up if needed, simplifying maintenance requirements.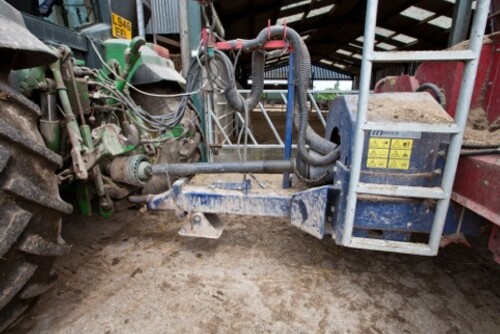 PTO guards should be intact and secure – pulling the main shaft apart will reveal if it has ever been greased and could give an indication of general machine maintenance. Shear bolt protection is located ahead of the main two-speed gearbox. Access to the gearbox is achieved by removing the bolt-on cover, allowing its oil level to be checked.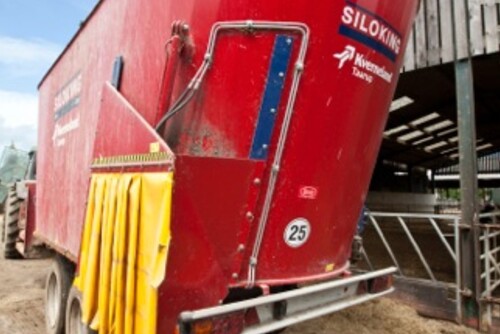 It is widely accepted that the level of damage sustained at the rear of a diet feeder is a good indicator of how these machines are looked after. The lights and rear bumper on this model are largely free of impact damage, suggesting its owner has been careful when backing into sheds and feed passages.
9th July 2014