"This spreader has become the benchmark for weighing and section control accuracy," he says. "It is unbelievably accurate and is saving us between 5-10% on our fertiliser every time I go across the fields."
"We were using automatic stop/start at headlands on our old spreader, but the GEOSPREAD has moved things up to another level," he says. ""We wanted more accuracy and variable rate capability, which meant buying the best that was available."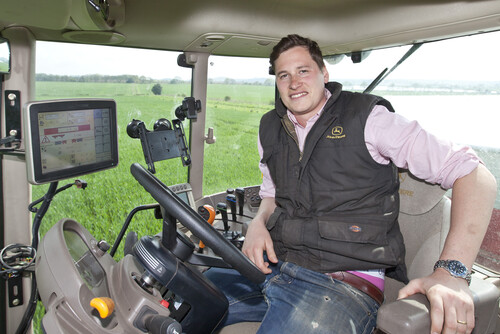 With GEOSPREAD, Packington Moor Farm is saving around £2,000 on fertilisers over 202ha of combinable crops.
Mr Barnes took delivery of his spreader for Spring 2014, having replaced a five-year old spreader from another manufacturer. He says moving up to GEOSPREAD with section control has given the farm the ability to reduce all overlaps to a minimum.
"I like the fact that this machine offers so many 'sections' so it can precisely cut back on spread width without affecting application rate, when fields get narrower," he says. ""My father has stood behind and watched the sections close down, and said it is very impressive."
From Packington Moor Farm, Lichfield, RH Barnes & Son farms 285ha, of which 202ha are combinable. Field sizes range from 1.5 to 20ha, spread through 30 fields.
"One block of 12ha is made up of seven fields, so we have a lot of headlands and a plenty of awkward shaped fields to negotiate," he says. "There was too much opportunity for waste and overlap."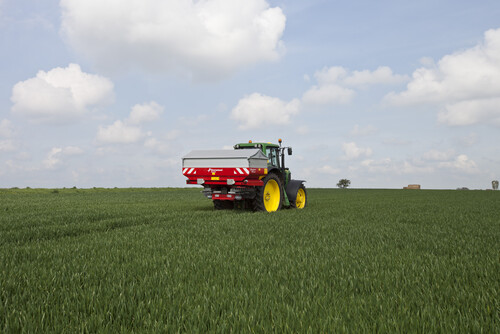 Henry Barnes reckons he was blown away by the accuracy of his TL Exacta GEOSPREAD
Mr Barnes reckons another big plus from buying the TL Exacta was the Isobus capability.
"We have recently invested in Greenstar and an AutoTrac Universal steering kit for my 7530 tractor, as we are now variable rate drilling," he says. "Isobus convenience means I just plug the spreader into the tractor and all the GEOSPREAD controls and data pops up on the 2630 screen. It is simple and effective."
"After carrying out a shaker box test on my fertiliser, I use my iPhone to access spreading chart data and simply feed the information into the control box and go spreading," he says. "It is that easy."
"With so much accuracy and capability, we have now moved into variable rate fertiliser spreading too, using Soyl map data."
27th June 2014