Kverneland's bodies are renowned all over the world for their:
(1) excellent ploughing results: agronomic benefits
(2) outstanding wear resistance: save time
(3) low draft requirements: save fuel
(1) Excellent ploughing results
Kverneland offers a full range of bodies to adapt to all types of soil conditions. The high quality ploughing results acheived by using Kverneland's bodies are recognised by competitors. Some plough manufacturers are even using the denomination "Scandinavian" for their own bodies to ascertain that they are emulating Kverneland's body shape.
To prevent soil from sticking to the board, Kverneland bodies are grinded. The several parts forming the body offer then a uniform shape and therefore quality ploughing.
In the last few years, the so called Body 28 has experienced an unprecedented success among the ploughing community, quite often associated with tractor tyres getting wider. (See brochure)
(2) Outstanding wear resistance
After a 12 hour carburising process, a unique Kverneland steel is magnified to a dual steel structure. Sharp as a diamond on the outside and flexible enough to absorb impacts for the inner structure.
(3) Low draft requirements
The university of Cologne in Germany has now released the results of their analysis (April 2013). Body 28 from Kverneland has been compared with similar bodies from the competition on sandy loam and loamy sand soils in similar conditions (depth: 20 & 30 cm, 5km/h, 48 cm working width…). The conclusion is very clear: Body 28 offers the lowest draft requirements while guaranteeing high quality ploughing. In other words: save fuel when using Kverneland bodies!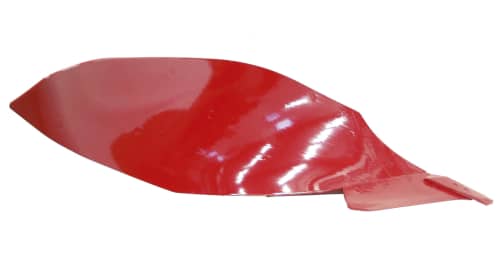 16th May 2013