For Suffolk grower Strutt & Parker Farms, investing in a DF2 front tank/6m power harrow drill combination with CX-II coulters has made the difference between getting crop in the ground and missing out on the prospect of harvesting up to 14,000 tonnes of wheat.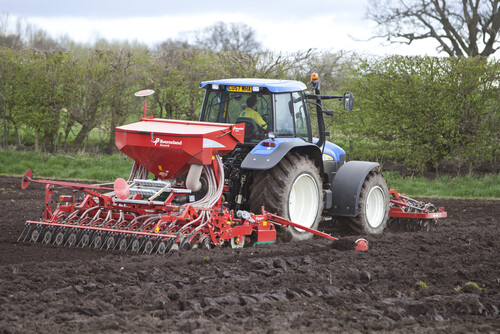 "We bought the drilling outfit in late October after wet conditions forced our cultivator drill off the fields," explains Martin Bowers, farm manager at The Old Forge, Bury St Edmunds. "And our local dealer Thurlow Nunn Standen really stepped up to the challenge to get us drilling in just a few days."
"While we had planted 725 hectares last year, we still had 1,200 hectares of cereals to get in."
The one-pass operation - wrapped around a Challenger MT765C - allowed the farm to work later into the season and for longer. And based on its performance, Mr Bowers intends to make the DF2 outfit a regular part of the farm's cultivation and drilling strategy, which operates with two differing strategies.
"It is a heavy outfit, and I'd like to try it on a flat-track Challenger to see if it rides and performs any differently."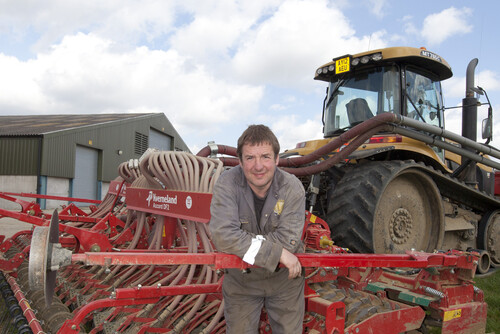 Operator Sean Frost adds that working on ploughing, the outfit demands everything the MT765C has to offer, to maintain an output of 4ha/hour.
"Although the outfit is heavy, almost every aspect of it appears heavily engineered," says Mr Frost.
"Working on Hanslope series chalky boulder clays, it has taken a little time to get coulter pressure just right," he says. "And there are times when I'd like to apply even more pressure. But overall, we're pleased with the coulter performance, sowing depth and germination from this latest system."
In addition to a more traditional plough-press-drill system, Strutt & Parker Farms operates a min-till system, where a stubble cultivator and drill is often the regime of choice for first wheats and oilseed rape crops. And with a 3,200ha workload, the farm accepts it needs to have more than one high output drilling option available that can be used in a wide variety of seedbed conditions.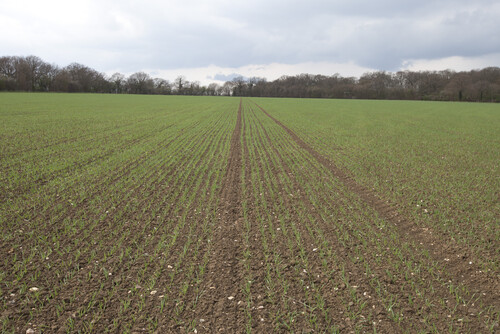 "The last season has brought home the fact that we do need more machinery choices with our current workload," says Mr Bowers. "Using the Kverneland drill, we worked through some very frosty conditions and while crops initially looked small and feeble, they've got away well and look much better than expected."
"And the spring-sown wheat and barley is looking really good."
In search of more coulter stagger and greater clearance to work with min-till seedbeds, Keith Morton of Saltoun East Mains, Haddington, East Lothian, bought a 3m s-drill Pro with CX-II coulters for the 2013 Spring drilling season.
"I liked the greater stagger, and I have to say that I'm very pleased with the way the drill and its coulters operate," says Mr Morton. "We've enjoyed some great, even germination this year, and we've never had the drill blocked. It has worked its way through wet patches much better than my previous drill would have ever done."
His outfit is one that uses two power harrows – one up front and one beneath the drill – which gives one-pass capability when not working directly on ploughing or cultivated soils.
"We would have to carry a press to balance the weight of the rear-mounted combination, and I'd rather use something up front that offers a bit more functionality than just pressing," he says. "The front power harrow starts the seedbed preparations and makes it easier for the combination."
Travelling at speeds of around 8km/h, Mr Morton says outputs of 1.2-1.6 ha/hour are easily achieved.
Having planted a wide variety of seed types this spring, including wheat, spring barley and mustard, Mr Morton says the drill has exceeded expectations.
"We have around 120 hectares of our own land, plus a further 60 hectares that we drill for neighbours," he explains. "And all the crops we've planted so far with the CX-II coulters are looking very good."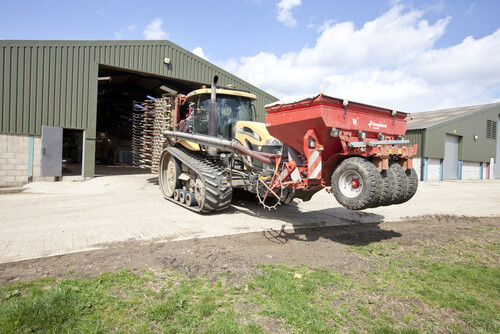 Shropshire farming business Lewis Brothers from Osbaston Farm, Knockin, have been using a set of CX-II coulters on their 3m s-drill Pro combination sat atop of an NG-H 101 power harrow.
Bought in late 2012, the new outfit replaced an 11-year old power harrow drill combination to give a boost to output.
"We've only done a few hundred acres with it so far, but I'm pleased to say that it's doing a much better job than our previous combination," explains Martin Lewis. "It doesn't leave the ground looking sad."
Used on a New Holland TM140, and handling a wide variety of soil types from sand through to peat and clay, Mr Lewis runs the TM140 on Michelin Xeobib tyres at just 12psi to keep compaction levels to a minimum. "We plough everything with a five-furrow mounted Kverneland plough, then follow on top with the combination," he says. "It gives us a fairly weather-proof system. Our target is three acres per hour, and we've very pleased with performance."
"Our previous outfit could block easily, and with this latest design, we've not had any blockages at all," he says. "Drilling has been much easier and more productive."
Hamish Forbes bought a 4m folding DFC combination, complete with CX-II coulters to handle an increasing workload at Lochdhu Farm, Nairn, Morayshire.
The switch from 3m combination with Suffolk coulters to 4m DFC with CX-II disc coulters was the step-change Mr Forbes was looking to adopt.
"I liked the look of the new coulters – the discs look right," he says. "I had been using Suffolks, but they can smear in wetter conditions, and they do have high running costs."
But the effectiveness of the CX-II system also hinged on the rear press wheel design.
"We have a lot of light land, so penetration is not the problem – keeping the coulters from going in too deep is our biggest issue," he says. "I like the ease at which we can adjust the rear press wheels to keep the correct planting depth as soil types change. And I'm very pleased to say that the coulters and rear press wheels do a great job."
With 485 hectares of drilling this spring, he reports that germination has been perfect so far.
"We are hoping to work directly into stubbles this autumn on our very light land, to establish stubble turnips without ploughing," he says. "In addition to saving on establishment costs, this new drill should allow us to retain soil moisture too."
3rd June 2013