Called the CX-II, the coulter offers a shallower curved profile than the current CX design that has been in use since 1993. This latest development on a well-proven coulter design affords greater downward pressure to be applied – typically 35kg compared to 26kg for the CX, representing an increase of 34%.
High seed placement accuracy is also a key feature of the new coulter design. While coulter penetration is said to be up to 8cm in good soils, tests have proved consistent sowing depths of 6cm are possible at forward speeds of up 10km/h.
The CX-II maintains our proven system of using a flex disc working against the steel disc coulter to ensure the CX-II remains clean when encountering sticky soil conditions. It is a system that avoids the need for additional scrapers too, eliminating blockages.
Both discs rotate simultaneously, resulting in even wear and a cleaning process that remains constant throughout the life of the coulter.
Being a shallower convex disc than the current CX version, the new CX-II offers a reduced level of soil disturbance, creating a narrower seed slot – 40mm compared to 48mm for the CX – resulting in 20% less soil being moved.
With a much greater row stagger of 445mm at 125mm row widths, the CX-II coulter system offers an impressive ability to deal with surface trash, while a rubber press wheel ensures good seed to soil contact is achieved, to promote equal germination.
The CX-II coulter is available as an option on s-drill/s-drill Pro, i-drill Pro DF1 and DF2 models from 3-6m working widths.
Find out what the farmers think: click here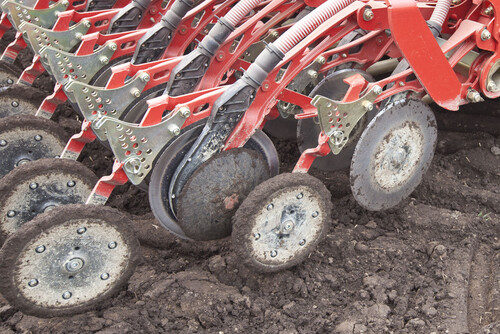 31st May 2013