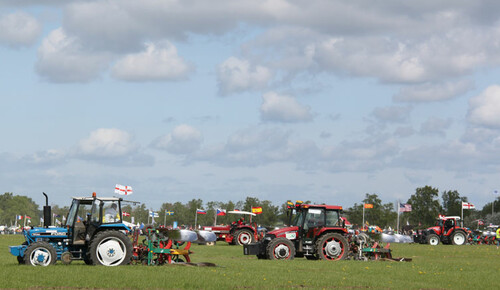 After the first day results, speculations started about who could be the winners for Day 2 and therefore for the overall Championship.
Some competitors feel more confortable with Stubble than with Grassland and vice-versa. The suspens was high. The will to achieve the highest number of points made Day 2 quite special.
Former World Champions attended the event too : Fabien Landré (France, WPC 2010 NZ), Bruce Redmond (NZ, WPC 2010 NZ) etc...
After a long waiting for every member of the public and obviously for the participants, results were revealed :
Overall results (Stubble + Grassland)
Conventional:
No 1: Christian Lanz , Austria, Kverneland
No 2: Bengt Andersson, Sweden, Kverneland
No 3: Andrew Mitchel Jnr, Scotland, Dowdeswell
Reversible:
No 1: Andrew Mitchel Snr, Scotland, Dowdeswell
No 2: David Wright, Northern Ireland, Kverneland
No 3: Dietmar Haas, Austria, Kverneland
Kverneland as a manufacturer congratulates every participants for their tenacity and high respect to one another.
Kverneland Sweden as sponsor and active sales company had made our brand very visible while also organising some implements demonstrations. Well done!
We should congratulate Ulrik Olsson, Kverneland Sweden product manager and trainer to the Swedish ploughing team, help Sweden be on the podium.
The venue was Lindevad's Manor, a farm with an ancient history located in the agricultural province of Östergötland in the south of Sweden.
This will be the 58th World Ploughing Championship since the start in 1953. The World Ploughing Organization (www.worldploughing.org) today has 34 member countries in 5 continents. Sweden has previously hosted the event in 1955, 1976 and 1993.
May 2011