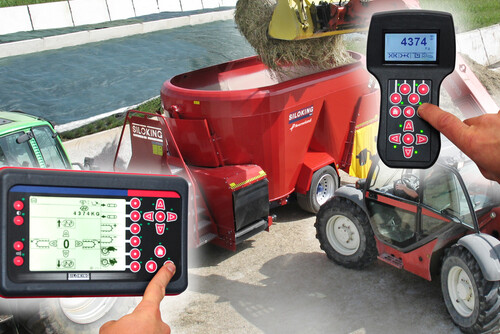 The new Wireless Control Terminal is a combined weighing and control system that gives you full control of all important functions, for instance during the loading process. All relevant information is shown on a large and very clear digital display. Communication between the control terminal and the computer, box fitted onto the mixer, is done wireless, without the need for any cables connecting the mixer and the terminal inside the tractor cab. So no more broken cables.
With the wireless control package it is possible to connect a second terminal to the new solution. You can place one terminal inside the tractor, pulling the mixer, and a second terminal inside the loading tractor. This allows the operator to control and monitor all loading activities and information from inside the loading tractor.
The new terminal includes a USB interface for simple exchange of data between the terminal and your personal computer. With the optional Feeding Management Programme software you can easily manage and exchange feeding data, e.g. comparing entered feed rations with the collected data from the terminal.
The new Wireless Control Terminal will be launched at the Agritechnica show in Hanover in cooperation with our strategic business partner Siloking.