Improved suspension concept, new ActiveLift protection system and 3 different working widths are amongst the key highlights of the new Kverneland Taarup 3600 series.
The new Kverneland Taarup front mounted mower conditioner is available in 3 working widths; 2.8, 3.2 and 3.6m and with either SemiSwing steel tine conditioning or chevron rubber rollers.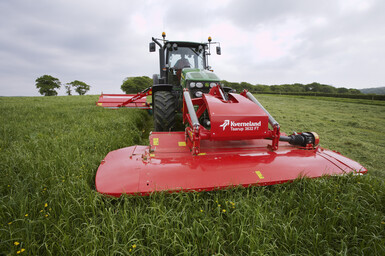 The suspension of the Kverneland Taarup 3628 FT, 3632 FT/FR and 3636 FT has been redesigned to offer better ground following in 3 dimensions. The suspension reacts faster to any unevenness in the field, and higher speeds can be reached.
The new design, with two heavy duty suspension springs moved further outwards on the mowing section, provides better side stability, as well as a more even ground pressure across the entire front mower. The suspension design also allows an exceptional transverse adaptation of 12° up and down. The benefit is optimal protection of the stubble and far less skid wear.
The BreakBack solution protects the cutterbar from foreign obstacles. If hitting an obstable the cutterbar will swing upwards and over the obstable, and then return to its original position. No need to stop - no time lost.
The clearance for headland turns and transport has been increased to 350mm without using the linkage of the tractor.
The new front mounted range has been given a very modern and attractive design with a perfect view of the mowing area, and is factory fitted with variable conditioner speed.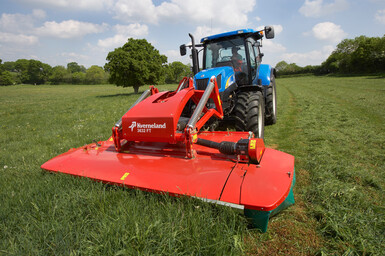 20 October 2010