Kverneland Optima RS
The rigid and strong frame for high performance and output
Highlights
Solid and easy frame design
Flexible adjustment to different row widths
Complete function control from the cab
GEOCONTROL and GEOSEED
ISOBUS intelligence
The Optima RS frame has been designed for farmers and contractors looking for a solid and easy solution with high efficiency.
The Optima RS frame is available in working width from 6.1m to 9.3m. In order to offer maximum flexibility, the Optima RS frame can be adjusted to different row widths, starting from 35cm to 80cm in even and uneven configurations. It can be equipped with the full range of Kverneland sowing units: Optima HD-II, the Optima SX high speed sowing unit, the standard or the tandem sowing unit. The solid and strong frame made of an180mm x 180mm square tube is ready to carry up to 18 HD-II or SX sowing units.
The Optima RS frame can be fitted with a large 2000l fertiliser hopper or alternatively with DF1/DF2 front hopper for a good weight distribution. In addition, the electric-driven micro-granule applicator is available for up to 18 rows.
For safe road transport, a strong lengthwise transport device is available. The machine complies with the new EU Type approval and is ready for transport at 40 km/h even with 18 rows and fertiliser. This is due to the pneumatic brake system.
The Advantages:
Solid and easy frame design
Flexible adjustment to different row widths
Operator-friendly with complete function control from the cab
Friendly to environment by precise and defined application with GEOCONTROL and GEOSEED
Saving seeds and fertilizer
 *Further configurations are possible on request.
For mulch and conventional sowing
Optimal depth control even under extreme conditions, due to the heavy basic weight of the sowing unit with the possibility to add additional pressure (up to 100kg) onto each individual sowing unit via the spring-loaded system.
Effective ground contour following, due to the large lateral depth control by open gauge wheels (Ø410mm, width 120mm).
Precise seed placement by the small coulter which forms a clean furrow. Light re-compaction and seed covering is done by the intermediate press wheel (as option: heavy stainless steel) and the multi-adjustable V-press wheel – to ensure maximum field emergence.
Seeding heart without seals for HD-II
The patented seeding heart by Kverneland has reduced maintenance costs to a minimum.
No friction, no wear, low drive torque, minimum maintenance: The seed disc rotates in the seeding heart together with the vacuum chamber. This seeding drum is connected to the vacuum fan via a hollow shaft.
This seed heart principal results in no loss of vacuum, and therefore a low vacuum requirement
Up to 18km/h for utmost efficiency
Optimum depth control due to the heavy basic weight of the sowing unit with the possibility to add additional pressure (up to 100kg) onto each individual sowing unit via spring-loaded system.
Effective ground contour following due to the large depth control by open gauge wheels (⌀410mm, with 120mm)
Precise seed placement by the small coulter which forms a clean furrow. Good placement, and seed covering is done by the smooth flexible intermediate press wheel and multi-adjustable V-press wheel.
Seeding heart – Optima SX
With the pressurized seeding heart, the seeds are "shot" by an airstream of up to 70kph into the furrow. A smooth, flexible intermediate press wheel catches and protects the delicate seeds. Any negative impact such as vibration on the way between release point and soil contact are eliminated due to the high air stream.
The seeds reach their perfect position in the soil. Each sowing row is electrically powered by ISOBUS connection. An additional generator or other power sources are not required. The complete power supply and control is via ISOBUS.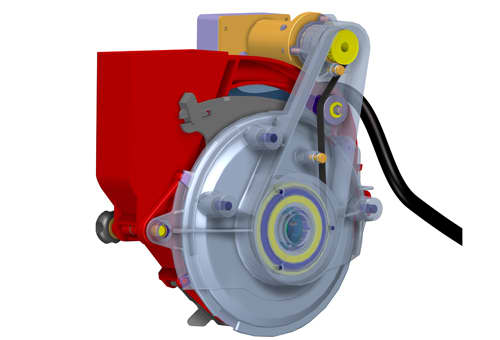 e-drive II – complete control and monitoring of the machine from the tractor cab in accordance with ISOBUS standard
With e-drive II, each sowing unit is driven individually via an electric motor.
The low-maintenance drive is connected directly to the seeding heart via a toothed belt in an encapsulated dust proof housing.
This enable an extremely compact design and smooth drive characteristics with low current consumption
All the data is entered and read out via an ISOBUS terminal like IsoMatch Tellus PRO or Tellus GO+.
The sowing distances are infinitely adjustable and can be changed during sowing.
All the sowing units can be switched off individually.
In conjunction with "close row" sowing widths of 37.5cm a further benefit of the e-drive II comes into play: Individual tramline switching. Tramlines can be set up for any spray width.
The e-drive II features complete electronic monitoring of all machine functions including seed monitoring via an opto sensor.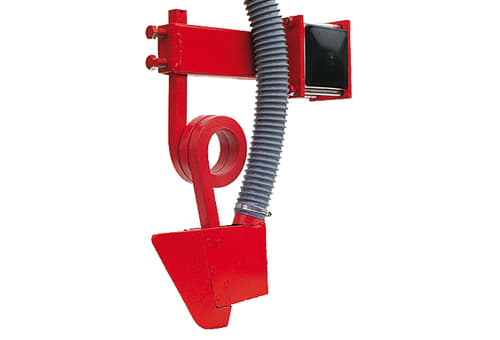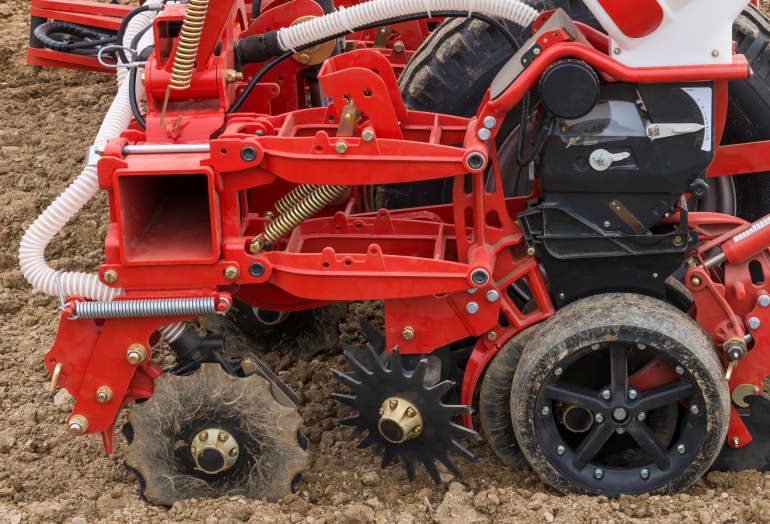 Stable design, modular system, low maintenance costs, high degree of wear resistance and optimum depth placement.
For fertiliser placement Kverneland supplies hoppers for different applications.
The chain drive for metering can be adjusted from 106 to 390kg per hectare at a distance between rows of 75cm.
The fertiliser applicator is driven centrally by an easily accessible side mounted gear box.
Fertilising coulter, standard seeding with narrow coulter design and stable, reliable construction, coil spring protection from sideways forces
Mulch seeding notched double-disc coulter for blockage-free and precise fertiliser placement by a Ø 350mm notched double-disc Coulter.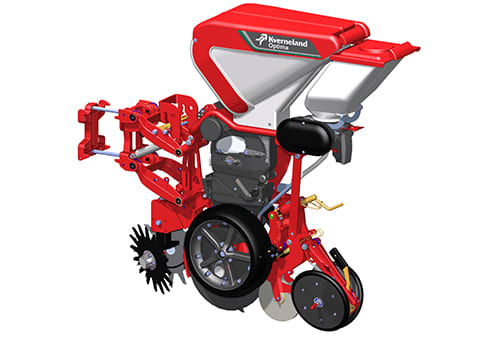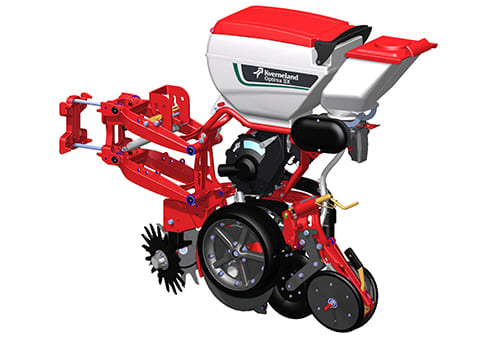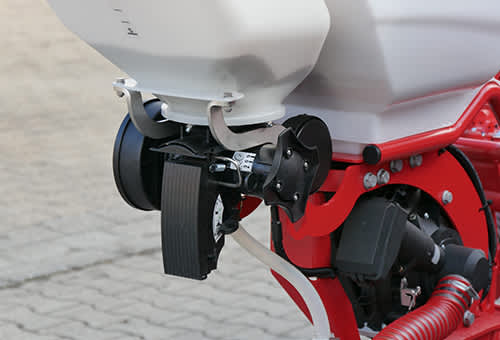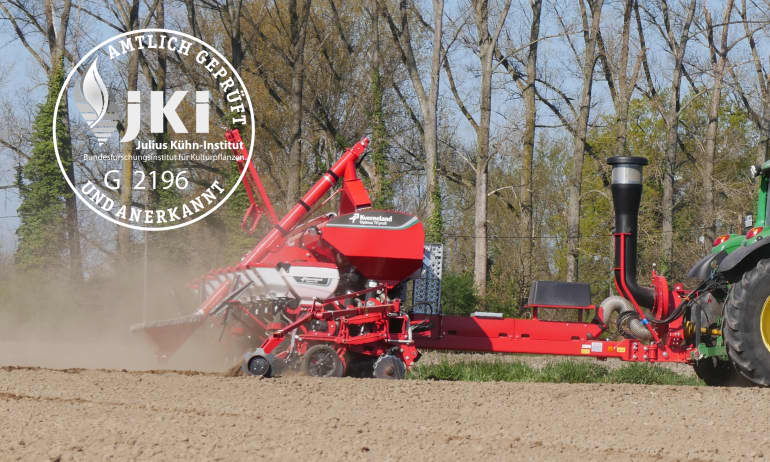 Micro-drill for Optima HD-II and SX sowing units
The demand for microgranule applicators is increasing. Micro nutrients and also small amounts of insecticides or fungicides ensure the best start of the crop.
The electric driven micro-drills for the Optima HD-II and SX sowing units have been designed as backpack behind the sowing units and offer a hopper capacity of 17 liters.
They are electrically driven and ISOBUS controlled. The metering device consists of a wear-resistant plastic housing with exchangeable cell wheels made of stainless steel. This ensures the precise metering of the micro granules.
Operator's safety
The engineers had focus on highest level of operator's safety by offering easy and safe handling of the applicator. Therefore, the operator can exchange the cell wheels even when the hoppers are full of micro granule. There is no need to empty them first, reducing the operator's risk of getting in direct contact with the granules.
A plus for the environment
The micro granules fall freely into the seed furrow without any air support, minimising the emission of dust. Therefore, the new micro-drill fully complies with the current guidelines for emission control of any granules applied.
Precision Farming
The comfortable, fully ISOBUS integrated control system allows the adaption to the stop and starting points of the seed row. This ensures precise shutting on and off at the end of the field and in tramlines (without overlaps or faults).
IsoMatch GEOCONTROL - Cost saving with immediate payback 
Seeding with GPS and GEOCONTROL in combination with an electric driven precision drill is a major step towards precision and cost saving. These machines are all equipped with ISOBUS technology which with the help of the IsoMatch Tellus terminal, can be easily controlled. 
Each electric driven seeding element, in combination with GPS and GEOCONTROL, is automatically switched on or off in exactly the right place, ensuring there is no overlap with any row that has already been seeded. This is especially handy in triangular fields, on curved or irregular shaped headlands. 
GEOSEED - Precision at high end
GEOSEED is offered in two different levels:
GEOSEED Level 1 is the synchronization in the machines working width. This improves the distribution of seeds up to perfection in parallel or diamond pattern: Positive effects are the best use of nutrients, water and sun. Also the wind and water erosion is decreased.
GEOSEED Level 2 is the synchronization in the whole field. This is the necessary requirement for interrow cultivation, also across the seeding direction. GEOSEED is the only system in the world, that makes this mechanic weeds control possible!
Technical specifications
Download brochure
| | | | | | |
| --- | --- | --- | --- | --- | --- |
| Working width (m) | 6.1 | 6.8 | 7.6 | 8.3 | 9.3 |
| Number of rows | 8 - 12 | 8 - 16 | 12 - 16 | 12 - 18 | 12 - 18 |
| Row width (cm) | 45 - 80 | 35 - 80 | 65 | 45 - 70 | 50 - 80 |
Find nearest dealer