When deciding what equipment to purchase, it is not always easy to find the optimal solution in the broad market offering of today. Technology is developing fast and tractors and implements are more and more equipped with high tech electronics. We understand this complexity and are committed to provide you with easy farming solutions. Therefore these cost-efficient ISOBUS Universal Terminals, IsoMatch Tellus and IsoMatch Tellus GO are made for easy machine control and efficient farming.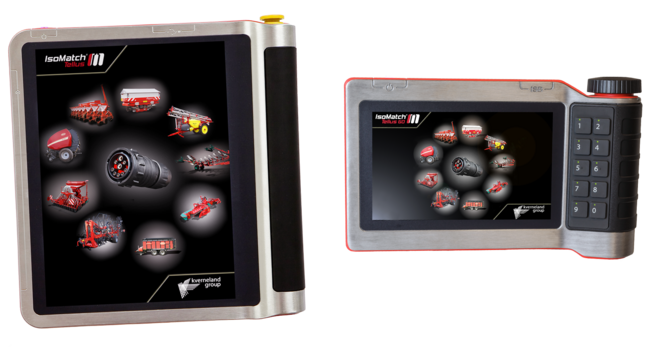 Always ensuring compatibility
Kverneland Group, being a leader in ISOBUS technology, always ensures compatibility of the IsoMatch Tellus and IsoMatch Tellus GO to all ISOBUS machines. Just step into the tractor, switch on the power button and go! No difficulties during operating settings, the terminal brings the implement automatically into view.
Precision Farming
Farming today is about efficiency. Efficient farming means: higher yields with less inputs and lower costs. With the easy to use application, Isomatch GEOCONTROL, it is possible to boost efficiency and save time and costs. The application includes Manual Guidance, Section Control and Variable Rate. Whether it is used with fertiliser spreaders, sprayers or seed drills, Precision Farming is just one click away.