Kverneland Group Distribution Centres
Kverneland Group puts a great emphasis on providing our partners with the best service possible. To provide the best distribution solutions, Kverneland Group Spare Parts works with the most modern distribution centres throughout Europe. These warehouses are planned centrally but operate locally.
In 2001 the three warehouses in Giessen, Orléans and Klepp became main sites for all Spare Parts within the Kverneland Group. To improve the Spare Parts service efficiency level, the planning of a new distribution centre started in 2004, and in 2006 it was decided to merge the Giessen and Orléans Distribution Centre to Metz. The closeness to major transportation facilities and to the European markets makes Metz the optimal logistical centre of Europe. In September 2007 the new distribution centre in Metz, France, started taking over the operations for the Giessen and Orléans warehouses.
Master Distribution Centres Are Located In:
Metz, France (60.000 article numbers)
Klepp, Norway (11.000 article numbers)
Satellite Warehouses Are Located In:
St. Helens, UK (18.000 article numbers)
Barcelona, Spain (6.000 article numbers)
Local warehouses are situated in Canada, Poland, Czech Republic, Hungary and Russia.
For each part of the world Kverneland Group has defined transport companies to serve the market with low cost-, economy express- and express service.
Ensuring the quality of our distribution set-up is one of our most important tasks.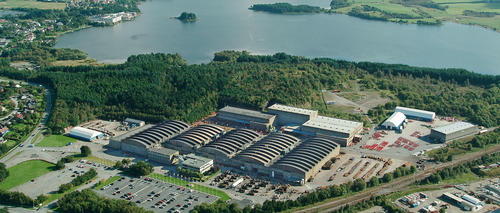 Warehouse Klepp, 11.000 numbered Spare Parts